Google Earth Just Solved Its Biggest Problem
One-and-done is a thing of the past for Google Earth.
by Kastalia Medrano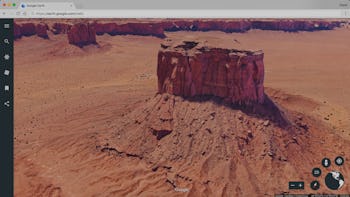 The problem with Google Earth — the digital giant's exploration service that uses images from satellites and its street-roving cars — was that people didn't spend a lot of time with it. They would check the most obvious place one checks when looking at Google Earth for the first time, and then sort of give up.
"The most popular thing people looked at on Google Earth was always [their own] home. The old classic problem was that people would 'fly' to their house and not know where to go from there," Google Earth product manager Gopal Shah tells Inverse. "This is about bringing the planet to life; what's a planet without people?"
On Tuesday, Google surprised the internet with a relaunch of Google Earth. Taken as a whole, the features of the ramped-up version place an unmistakable emphasis on A) education and B) interactivity and shareability. The technical accomplishments are impressive, but the intention behind the new design is more emotional than a technological. In its essence, the new Google Earth is a collection of stories.
How the New Google Earth Works
There's no download required; you can just access it directly from your browser. Under "Search," you'll find the Voyager icon, where you can choose between History, Culture, Travel, Nature, or Editors' Picks.
One of the hallmark features of the new Google Earth is the addition of Knowledge Cards, which pop up stacked at points of interest and allow you to click and expand for more info. The Google Earth team curated 20,000 individual locations they felt had significant aesthetic and educational value — historical landmarks, natural wonders, wildlife hot spots. All 20,000 have Knowledge Cards. The new features debuted at an interactive press event at the Whitney Museum of American Art in New York City. Google reps and members of the media roved between stations highlighting key features, the room slightly darkened but lit by enough landscape-dominated screens to give the sensation of watching a succession of very small IMAX movies.
By clicking on New York City, for example, you can take a virtual tour of the famous Museum Mile. You can zoom into the Met. You can actually look inside the Met — Knowledge Cards for individual paintings will rise to meet you as you go. Or you could hover somewhere over Afghanistan, where cricket is the national sport, and find that markers have been placed over notable sports arenas. If you are feeling lucky, you may click "I'm Feeling Lucky" — long a feature for Google searches — and find yourself dropped in one of 20,000 randomized but info-rich locations.
Wherever you are, you can click the 3D button to get the full immersive experience. You can stand on the top of Yosemite's Half Dome or on the edge of the Grand Canyon. Climb the pyramids without opening yourself to ethical scrutiny.
Google Earth on Mobile
If you're viewing it on mobile (and have an Android), you can take it a step further: zoom in, pick a view, take a snapshot, and share it immediately as a postcard over text or email or social media. Your recipient will get not only the image, but a link that will provide relevant info and let them view it in 3D themselves, which makes it incredibly conducive to the cultural moment that terms like 'wanderlust' and 'aspirational travel' are having on social media. In the This Is Home feature, you can step into five homes representing distinct, traditional indigenous cultures that may be rapidly changing. Children (and adults) can digitally immerse themselves in lifestyles they might never otherwise see, like an Inuit igloo. Wondering what's stopping users from peeking into any home they like, because I sure was, Google Earth reps say only these pre-approved homes are currently preserved in street view.
The data feeding Google Earth is the same data that feeds Google Maps, but infused with richer information. For this relaunch, which the Google Earth team has been working on for about two years, they partnered with entities like BBC Earth, NASA, the Jane Goodall Institute, and even Sesame Street. The people behind the Natural Treasures feature are the same people behind Planet Earth II.
Google Earth's "Natural Treasures"
The six Natural Treasures are immersive, bespoke journeys to unique environments all around the world; they are extremely "choose your own adventure." They each contain video, educational information about the habitats at hand, and insights from production teams. You can watch that now-famous iguana scene from PEII, but now accompanied by supplementary facts about the environment. Infographics expanding on PEII content were created exclusively for this relaunch, cross-curated from all manner of other series and platforms. More than 50 of these immersive stories are already available, with more slated to arrive each week. Behind-the-scenes content abounds. ("I highly recommend the Komodo dragon stuck in a hotel bathroom," urged a passing Google spokesperson. "It's terrifying.")
"Wildlife filmmakers have been using Google Earth as a tool for years," says Chadden Hunter, who directed PEII's 'Grasslands' episode and collaborated on the relaunch. "And the mantra now is, 'immersion, immersion, immersion.'"
Google Earth's VR launched last year, carried by HTC Vive headsets. In addition to now being compatible with Oculus ones, the whole thing is searchable — rather than just zooming in tighter and tighter until you come upon your desired location, you can input the address of your choice and "fly" to it directly.
It takes a lot of tinkering with shadows and angles and appearance of velocity to create something that won't make people sick, and the flying aspect of the new searchability is impressive. You can change the time of day by targeting the sun and dragging it across the sky; you can float above the Earth and watch it turn from space. You can touch down in the arrondissements of Paris and browse shop windows. Alternately, you may zoom yourself out to Eiffel Tower height and stomp around the streets like a giant, a selection that will not be amusing to the journalists waiting behind you in line who don't seem to care that it's your first time using VR.
Google Earth is hoping to attract a younger audience with these new features. And pretty much the whole interface is kid-friendly, both in the sense that it emphasizes education and that the interface is intuitive to even a small child. Under the Culture tab, you'll find video clips of fairy tales around the world as narrated by Muppets. And you can explore the world, all its varied cultures and environments, accompanied by friends from Sesame Street.
"We wanted to make this educational, and we thought, well, 'who are the coolest people in the world?'" says Shah. "So we reached out to Sesame Street and luckily they took our call."