Google Just Released a New Google Earth With Voyager Guided Tours
The app is launching with 50 world tours, with more coming later.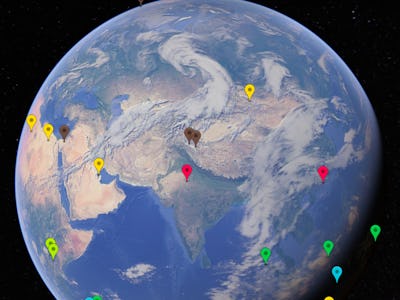 Google
Google took the wraps off its new Google Earth update on Tuesday, complete with new global guided tours and a random "I'm feeling lucky" button. The company has teamed up with the BBC, Jane Goodall, and Sesame Street to offer 50 "Voyager" stories, each of which offers an interactive exploration of a new part of the world.
"Today we're introducing a brand-new version of Google Earth — on the web and Android — two years in the making," Gopal Shah, project manager at Google Earth, said in a blog post. "It's everything you love about Google Earth, plus new ways for you to explore, learn and share."
One of the first Voyager stories users may encounter is called "This is Home." It's an exploration of homes around the world in various cultures, offering a fascinating insight into a Greenlandic IIoq or a Peruvian chuclla. More homes will be added in the coming months, and Google is expected to add new Voyager stories every week.
Also joining the app is a new "I'm feeling lucky" button. This takes the user to one of 20,000 different places, zooming in on hidden gems. Knowledge Cards provide facts and information about new discoveries.
Another new button provides 3D perspectives for anywhere in the world. World wonders like the Grand Canyon and the Château de Chambord are recreated in stunning detail.
"Hold it in your hand, pass it around a classroom, fly around the world and walk inside places thousands of miles away in incredible detail," Shah said. "Feel free to lose yourself a little — with Google Earth you can always find your way back home."
Members of the press have received invitations to a "first look" at the new Google Earth, which will take place Tuesday at New York's Whitney Museum of Art.
The update is much needed. Apple has started making apps not compatible with future versions of iOS, as the company shifts toward 64-bit phone processors. Google Earth, which was last updated May 2016, was set for the chopping block.
Unfortunately, Apple users will have to wait a while. The update is first rolling out via the web for Google Chrome, with Android following after in the coming week. iOS and users of other web browsers will receive an update "in the near future." Google also said that users can still access and download Google Earth 7 for the desktop.
Take a look at the new Google Earth here: