Man Climbs the Great Pyramid of Giza
Yes it's totally illegal to do, but one cannot deny the view.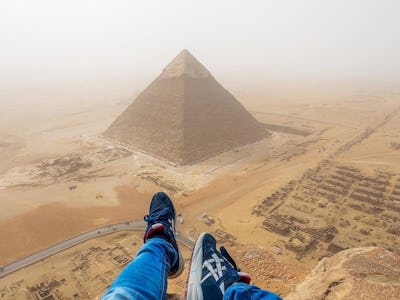 instagram.com/andrejcie
A man scaled the Great Pyramid of Giza in Egypt in a bounding sprint-and-climb, and has video proof.
He identifies himself on Instagram as Andrej Ciesielski of Munich, Germany — referring to himself as a "Professional Dreamer." He placed the video on YouTube, but also did a blog follow of the day, which started off as a rooftop excursion in Cairo. Aside from exploring the streets, he offers topside views of the city, as well as Talaat Harb Square and Tahrir Square (the latter of which being the nexus of the period of demonstrations and civil disobedience known as the Egyptian Revolution of 2011.)
However, eventually Ciesielski makes his way to the pyramids, and he explains:
"… I was waiting for the right moment to start climbing the Cheops Pyramid, also known as the Great Pyramid of Giza. When I started climbing a street seller was standing behind me but I didn't care about him I turned around he laughed and I continued climbing."
He explains that he was spotted: "At the half some people got attention on me and looked up to. That's how the police spotted me. They shouted something in Arabic I think but I didn't care and kept going while listening to music."
Andrej writes that it took him "around 8 minutes to reach the top. Climbing down took me 20 minutes."
The Independent wrote Thursday that Ciesielski was in fact questioned by police, but was allowed to leave — with the photos and videos of his jaunt.
As of this writing, Ciesielski has not responded to a request for an interview.