Here's Why Oculus Just Lost a Half a Billion Dollar Lawsuit
Believe it or not, though, things could have been much worse for the Facebook-owned VR company.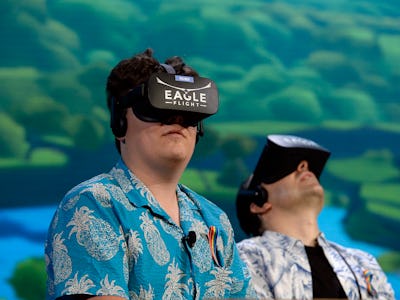 Getty Images / Kevork Djansezian
Oculus is going to have to pay out a half a billion dollars to a major video game company after a Dallas jury found that the virtual reality company's co-founder, Palmer Luckey, had violated a non-disclosure agreement. It's a major loss for the Facebook-owned company, although things could've gone much worse.
Polygon reports that the jury awarded ZeniMax, the company behind the Elder Scrolls and Fallout series, $500 million. ZeniMax was hoping for more, as its lawyers were seeking $2 billion in compensation and another $2 billion in punitive damages over claims that Oculus misappropriate trade secrets.
According to ZeniMax, Oculus's CTO John Carmack — a former employee of ZeniMax-owned Id Studios — brought proprietary VR technology over to Oculus when he left. The jury didn't agree, but still slapped Luckey for violating a non-disclosure agreement.
Luckey and ZeniMax had made a deal to share some work and information with one another, but Luckey was prohibited from sharing what he learned or using it in a commercial manner under a non-disclosure agreement. On Wednesday, after two and a half days of deliberation, the jury decided that the 24-year-old co-founder had indeed violated the agreement.
Facebook, which bought Oculus rather quickly back in March, has not offered an official comment yet, though the subject is almost certainly going to come up during the tech giant's quarterly earnings call, which is scheduled for later in the afternoon.
Mark Zuckerberg, Facebook's founder and CEO, testified during the trial in January, although he was not a defendant. During his testimony, Zuckerberg got in a few shady burns at ZeniMax's expense, though he claimed not to have known about Luckey's non-disclosure agreement until deposition for the lawsuit in 2016.
It's unclear, at this point, how exactly the result is going to impact Oculus Rift sales, development, or the company as a whole. Oculus had already been distancing itself from Luckey after news broke that he was bankrolling pro-Trump shitposting. It seem unlikely that this $500 million lawsuit is going to help things.
An Oculus representative sent over this statement about the case to Inverse:
The heart of this case was about whether Oculus stole ZeniMax's trade secrets, and the jury found decisively in our favor. We're obviously disappointed by a few other aspects of today's verdict, but we are undeterred. Oculus products are built with Oculus technology. Our commitment to the long-term success of VR remains the same, and the entire team will continue the work they've done since day one – developing VR technology that will transform the way people interact and communicate. We look forward to filing our appeal and eventually putting this litigation behind us.