Here's Why Mark Zuckerberg Was in Court Today
A tech company is suing Oculus for allegedly stealing trade secrets.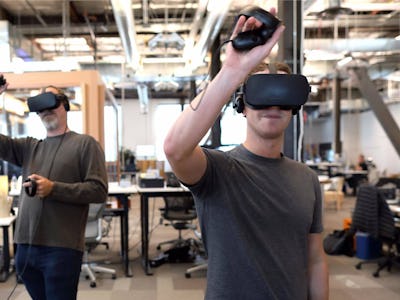 Getty Images / Justin Sullivan
A billion dollars is cooler than a million dollars, according to Justin Timberlake in The Social Network, but Facebook probably doesn't think that the $2 billion lawsuit the company is facing is all that cool. Mark Zuckerberg appeared in court on Tuesday to defend allegations that Facebook-owned Oculus VR stole trade secrets while making its virtual reality headsets, and the CEO's speedy management strategy came out during his testimony.
ZeniMax Media, the video game publisher behind the Fallout, Elder Scrolls, and Doom series, sued Oculus in 2014, shortly before Facebook bought the VR company. ZeniMax alleges that Oculus' chief technical officer John Carmack illicitly brought VR technology to the company that he had originally developed while working at ZeniMax. The massive suit also alleges that Oculus infringed on ZeniMax's copyrights, and that Oculus founder Palmer Luckey violated a non-disclosure agreement.
Since Facebook purchased Oculus right when this all started to go down, ZeniMax says Facebook is responsible, and its lawyers are arguing that Zuckerberg and Co. didn't do due diligence before buying Oculus.
Facebook, naturally, thinks this is a bunch of hogwash, and a surprisingly cool and collected Zuckerberg said as much while on the stand in Dallas on Tuesday.
"It is pretty common when you announce a big deal or do something like that, all kinds of people come out of the woodwork and claim that they just own some portion of the deal Zuckerberg told Zenimax's lawyer Toni Sammi," reported Gizmodo. He then continued to burn ZeniMax.
"Like most people in the court, I've never even heard of ZeniMax before," he continued. "I know that our legal team would look into this and examine but they aren't going to take a lot of my time on something they don't think is credible."
Zuckerberg said he had no idea that Oculus's Luckey even had a non-disclosure agreement to violate until deposition for the lawsuit in 2016, and he was pretty flip about ZeniMax's allegations that Facebook rushed the deal.
There are some signs that ZeniMax could be on to something, though. During discovery, the company unveiled an email to Zuckerberg from Facebook board member Marc Andreessen sent before Facebook's purchase where Andreessen said it was "key" that Oculus had snagged Carmack from ZeniMax.
During Tuesday's session, ZeniMax's lawyer accused Facebook of being a little too literal with its "build fast break things motto." Zuckerberg said that Facebook had matured beyond that.
"Our new motto is 'build fast by building stable infrastructure.' It doesn't have quite the same ring to it," Zuckerberg quipped.
Former Oculus CEO Brendan Iribe and Luckey will testify as the trial continues. It's worth noting that, when Luckey takes the stand, it'll be his first public appearance since he went MIA after word got out that he was bankrolling pro-Trump "shitposts."