How the Feds Will Spend $1 Billion to "Protect America" From Zika
A day late and a dollar short.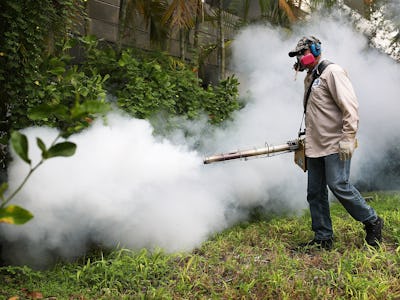 Getty Images / Joe Raedle
The Senate finally approved funding for fighting the Zika virus last week, seven months after President Obama asked for it, and $800 million short. The disease, which is spread by mosquitos and can cause severe birth defects, has already infected more than 25,000 people in the United States and its territories. Here's how the federal government announced on Monday that it would spend $1.1 billion to combat Zika:
Clinical Trials for Vaccines
Right now, there are nine vaccine candidates being developed. A Phase I clinical trial started in August that will test the safety of one of those vaccines. Anthony Fauci, director of the National Institute of Allergy and Infectious Diseases, told reporters Monday that a vaccine will start a Phase II trial, to test efficacy, "no later than January, and hopefully a little bit earlier."
Some of the funding will come from a $245 million award to the Biomedical Advanced Research and Development Authority and will help get vaccine candidates to the trial stage. Funding from the National Institutes of Health (NIH), about $152 million, will also go to vaccine development.
Long-term Studies
Because Zika is so new, we have no idea what the long-term consequences are for those who become infected. "The more we learn, the more concerned we are," says Tom Friedan, director of the Centers for Disease Control and Prevention (CDC).
We don't know how children will fare if they are infected in the womb, or if the time of infection during their development matters. Not all infected women give birth to children with noticeable symptoms, but that doesn't mean they aren't affected in some way. A study that will track a group of pregnant women and their babies for one year is in the works.
The CDC will spend about $350 million to start or extend research on the effects of Zika on women and children, as well as methods for controlling and tracking the mosquitoes that transmit the virus.
Reimbursments
Agencies within the Department of Health and Human Services, including the CDC and the NIH reallocated over $433 million from other programs, such as research on cancer, heart disease, diabetes, mental health, and even Ebola. The HHS will be using just $34 million to reimburse some of these programs, so not everyone is getting their money back. That means cancer, malaria, and Ebola researchers will be short on cash because Congress refused to give the full $1.9 billion in funding that was requested.