Elon Musk Thanks Tyler, The Creator on Twitter For Brightening His Day
The rapper reached out with some words of encouragement.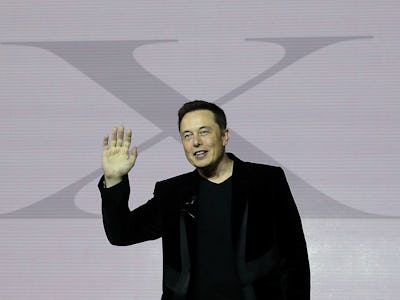 Getty Images / Justin Sullivan
Yes, it's nice having a net worth of $12.3 billion, and leading two companies seeking new frontiers, but some days it's just tough being Elon Musk. The haters are a-hating, the rockets are a-crashing, and Tesla is a-facing accusations that it covered up defects and bribed owners not to report problems to government officials. During these low times, Musk does what any tech billionaire would do: Turn to Twitter for support.
And he found it alright. One user in particular struck his eye, probably for their impassioned, all-caps plea for Musk never to let the haters keep him from achieving his goals. You may know Musk's new biggest fan as Tyler, The Creator. The rapper, and co-founder of the Odd Future label took it upon himself to brighten Musk's day with a tweet that would undoubtedly have remained buried in the mentions had it not originated "Tyler."
"I HOPE YOU HAVE A GOOD DAY AND ANY IDEAS YOU HAVE AND STUFF GO FOR THEM NO MATTER WHAT NIGGAS SAY SHOUT OUT ELON MUSK," Tyler, The Creator tweeted to Musk. And like a teacher, hoping to encourage a typically unruly student, Musk responded awkwardly but affably with a simple, "Thanks, Tyler."
Tyler, The Creator followed up the response with one final message he hoped to buoy the billionaire in these dark times.
In fairness, things are actually still going pretty well for Musk. Though SpaceX's recent rocket crashed on its return to Earth, the company has already landed three times successfully. Tesla is still trying to fill the hundreds of thousands of preorders it received for the affordable Model X Model 3. And even the hyperloop is coming along nicely.
Tyler, The Creator probably was just watching an old SpaceX landing, checking out hyperloop predications or reading about Tesla's planned electric, autonomous cars and feeling pretty amped up about the future. We understand the sentiment, and so he thought he'd reach out with some encouragement. You know, one genius to another.