Elon Musk Endorses This History of SpaceX's Falcon 9
Musk is still basking in the glory of the Falcon 9's recent drone ship landing.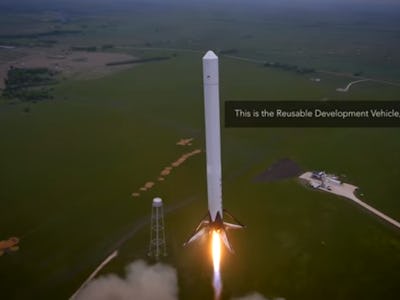 Screenshot from Kinematic's SpaceX Falcon 9 Development Supercut
Late Wednesday evening, Elon Musk got super sentimental on Twitter and shared a video highlighting all the failures and successes of SpaceX's Falcon 9. Musk's post celebrates the Falcon 9's first ever drone ship landing on Friday, April 8, after it launched a Dragon capsule full of goods, experimental equipment, and an expandable space habitat to the International Space Station. The private space company has tried and failed four separate times to land a rocket on a drone ship in its endeavor to create reusable rockets, so it makes sense that Musk has been Twitter happy about SpaceX lately.
The video by Kinematic, an independent YouTube channel that creates and posts videos telling "stories from the past, present, and future of humanity in space," documents the journey of everything SpaceX did to develop the reusable development vehicle program and the Falcon 9 v1.2 that completed the historic landing on the drone ship. It starts with the Grasshopper reusable test rocket, showing it leap up and hover at increasing altitudes before settling back on the ground. Following that are clips spliced together of the F9R reusable development vehicle hovering, various commercial resupply missions conducted for NASA, and the Falcon 9 exploding on drone ships during failed landings.
The tone of Kinematic's videos are set with moody techno music. The four-minute-and-41-second clip of SpaceX's Falcon 9 is accompanied by a collaboration track between the bands Sex Whales and Phantom Sage called "One Day." The lyrics: "We will all get there one day, one day." And SpaceX did when it landed on the drone ship, Of Course I Love You, on that sunny day in April.
The final clip of the video shows footage of the Falcon 9 sea landing. Kinematic captions on the video:
SpaceX lands Falcon 9v1.2 on Of Course I Still Love You - April 8, 2016, … The Grasshopper's first hop - September 21, 2012. Less than 4 years. What do you think will happen in another 4?
We know what SpaceX plans to do in the coming years, as laid out by the company's president Gwynne Shotwell during the Satellite 2016 conference in March. SpaceX will carry out 16 more launches this year and up to 30 in 2017, which is also the year Crew Dragon is expected to carry humans into space. NASA also extended its Commercial Resupply Services contract with SpaceX to 2024. We'll stay tuned to see if Musk and company can stick the landing on the plans they have lined up.