8 scientist-recommended gifts that give your brain a mental hug
A positive well-being gift guide.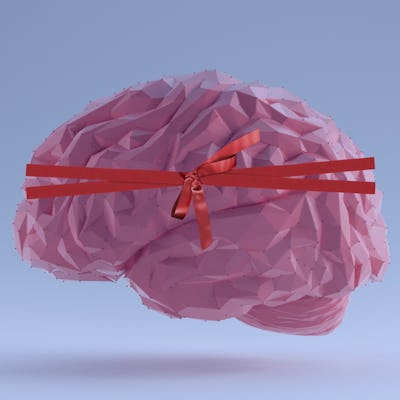 Shutterstock
With the holidays here, the time for gift-giving is now.
Inverse spoke with mental health professionals about what gifts you can give that can also alleviate stress and improve mood.
Each gift on this list ranges in price, but is aimed to boost the well-being of the receiver. Not sure what to get an overworked sister? We got you. Not sure what to get your shy nephew? We got you, too.
Consider the eight items (and one extra something) below, and maybe pick out something for yourself too.
A STATIONARY BIKE
Dr. Jonathan Terry, a psychiatrist based in central California, recommends gifting a stationary bike. Terry tells Inverse that regular cardiovascular activity is "essential for good brain and emotional health." Plus, he points out that a stationary bike is a good option for at-home cardio without needing to brave the cold.
While the expensive options like Peloton or NordicTrack s22i are out there, there are more affordable options, like this holiday special at Costco.
A COLORING BOOK FOR ADULTS
Terry also says you could pick up your person a coloring book. Coloring books, he explains, support mental health in several ways: Some studies, suggest that coloring can reduce depressive symptoms and anxiety, even if you're coloring only 10 minutes again.
People interested can start off with Terry's own coloring book — a capybara-themed romp whose sales go toward free clinics and women's and children's shelters.
A MANTRABAND
For holiday gift-giving, one of Dr. Jennifer Newman's go-to items is a bracelet from MantraBand, an inspirational jewelry company. Newman, a clinical psychologist and an assistant professor at the New York University School of Medicine, notes that MantraBand's offerings are versatile for both men and women.
"Mantras are a powerful tool that can help us be aware of our own power, goals, strengths, and resilience," Newman tells Inverse. "I love giving these bracelets to friends, colleagues, and family — and have gotten feedback that they will wear them on days they need a boost."
BOOKS
Dr. Melanie Badali, a psychologist at North Shore Stress and Anxiety Clinic in Vancouver, tells Inverse that as a bookworm, she was delighted to learn of research showing that reading fiction, particularly literary fiction, can increase empathy, interpersonal understanding, and social skills. This is particularly true of books that include in-depth portrayals of a character's inner thoughts and feelings.
Inverse recommends checking out the "Southern Reach Trilogy" by Jeff VanderMeer, which is at its heart a collection of thrilling — and very weird — character studies.
Books are also a good option if you're looking for a gift for a child. Dr. Rebecca Sachs, a clinical psychologist, tells Inverse she's "in love with the 'Daniel Tiger' book series" which "do a fabulous job at targeting social and emotional learning." They've given Sachs' own daughter a chance to grow her emotional vocabulary, as well as the chance to make connections between her experiences in her life to those of the book's characters.
You could also check out the The Greatest Chair, a book by children's psychiatrist Dr. Kathleen Friend.
AN EMOTION FLIPBOOK
Another option for kids is something called an "emotion flipbook." Dr. Ryan DeLapp, an attending psychologist at Montefiore Medical Center, tells Inverse that "parents often express concerns about their children and teens struggling with sharing emotions."
Creating a home environment where emotions are intertwined into how kids and their families discuss daily experiences is important for development.
Emotion flipbooks can be helpful, DeLapp says, because they "help children notice the range of their emotional experience and provide families with a menu of emotional experiences."
A LIGHT THERAPY BOX
Cynthia Branch, a mental health clinician based out of Brooklyn, New York, recommends a light therapy box that can be kept at home or at the office. She tells Inverse this is ideal for those who live in areas that experience shorter days in winter — and perhaps have seasonal depression.
A JOURNAL
Dr. Sandra Pimentel, an associate professor at the Albert Einstein College of Medicine, tells Inverse that "a gift that is timeless is a journal." She explains that research is pretty clear on the benefits of a regular journaling practice, which include improved stress management, self-efficacy, and even immune functioning.
And if you're shopping for a teenager or child, it could be best to pick out journals that come with targeted prompts that promote creativity. These can help boost confidence, while prompting introspection along the way.
AN EXPERIENCE
And if products aren't for you, then you can always go the way of giving your person an experience. Clinical psychologist Dr. Vaile Wright tells Inverse that she encourages people "to think about gifts that the other person may want, but may be reluctant to gift to themselves for whatever reason."
This could be something like taking someone to a pedicure or a concert. Wright also notes that another gift-giving approach is offering "acts of service," or the giving of your time or personal resources to someone else. These acts could be as simple as offering to babysit for a new parent, or offering to help someone with their yard work.
"These gifts can feel more personalized," Wright says, "and the giving of time is something that everyone can use."