Was the Starship Explosion a Health Hazard? Future Explosions Could Present an Even Bigger Problem
Relying on trial and error alone could come at the cost of our health and environment.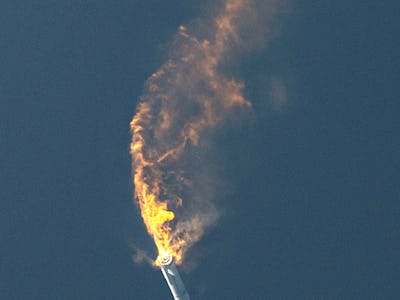 The Washington Post/The Washington Post/Getty Images
On April 20, Elon Musk's private space exploration company, SpaceX, launched its Starship spacecraft and Super Heavy rocket from Port Isabel, Texas. The launchpad exploded, and the craft, the largest spaceship launched, soared through the air for about four minutes before failing to detach from its booster and exploding over Boca Chica. Residents reported ash and dust coatings on their cars and windows.
This test run brings us another small step toward Mars, but how tests and incidents like this one will affect people's health and well-being is still an unanswered question. Aerospace engineering professor Moriba Jah from The University of Texas at Austin tells Inverse that we should prepare for more explosions as SpaceX continues trial flights, and that means understanding potential health outcomes.
What did the SpaceX explosion do to the air?
In Port Isabel's immediate vicinity, visible debris fell from the sky.
This visible matter remained close to the launchpad, but microscopic debris certainly spread farther. An explosion like this results in fine particulate matter (PM2.5, referring to particles that are less than two and a half microns wide), which can hang in the air for about two weeks, according to Sarah Chambliss, an environmental science postdoctoral fellow at the University of Texas Dell Medical School Center for Health & Environment: Education & Research. She says these invisible particles can cause some of the most deleterious air pollution.
"They're totally invisible," Chambliss tells Inverse. "You don't even smell them."
These particles travel far, too. If they're picked up by the wind, they "can disperse across, basically, continental scale," Chambliss tells Inverse. This is the same reason why the effects of a wildfire in California register all the way over in New York.
The explosion in the air was a medley of heavy metals and rocket fuel. Starship's Raptor engine, in particular, runs on liquid oxygen and methane — and Starship had 34 engines. "Particulate matter that's high in metal content is more toxic," Chambliss says.
Does this pollution impact our health?
Inhaling elevated levels of PM2.5, Chambliss says, is linked to inflammation, increased risk of an asthma emergency, increased incidence of asthma, and lung cancer. However, a single event like this can't be fully responsible for health damage. "You wouldn't be able to attribute any individual health outcome to an explosion like this," Chambliss tells Inverse.
More immediately, this explosion harms our environment. Environmental organizations, including the Center for Biological Diversity, the American Bird Conservancy, the Surfrider Foundation, Save RGV, and the Carrizo/Comecrudo Nation of Texas, filed a suit against the Federal Aviation Administration (FAA) for the damages committed.
How can SpaceX prevent damage next time?
Highly accurate models that give a better idea of potential damage, Jah says, could demonstrate in computer simulations the likelihood of particular outcomes, such as explosions. Aerospace engineering employs these high-fidelity models in aircraft design, but Jah says they're not yet part of standard practice. Especially when it comes to firsts, like the historically huge and powerful Starship, high-fidelity modeling is essential because learning from mistakes could be too costly.
"If it's all learning from trial and error, that is to the detriment of the environment," he tells Inverse.
SpaceX has not made a public comment on the explosion's impact on public health or our environment and did not respond to Inverse for comment in time for publication.
Following the explosion, the FAA has grounded SpaceX's Starship rockets until it finds that "any system, process, or procedure related to the mishap does not affect public safety," the FAA said in a statement.
"I do think that it's the ethical responsibility of polluters to deal with the fallout of their pollution," Chambliss says.