A Mobile Air Quality Monitor Reveals the True Extent of the Ohio Train Derailment Damage
Months after the disaster, a new study sheds light on how to prep for a disaster.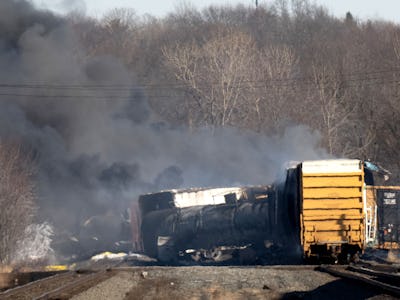 DUSTIN FRANZ/AFP/Getty Images
On February 3, a freight train hauling toxic chemicals through eastern Ohio derailed and set aflame, and smoke quickly billowed over the nearby town of East Palestine. As the threat of an explosion loomed as large as the smoke plume, authorities opted for a controlled release of the train's contents. East Palestine residents evacuated their homes, and on February 6 that order extended to surrounding parts of Pennsylvania and Ohio. Some residents reported headaches, rashes, coughs, and other symptoms of chemical exposure.
Since then, the Environmental Protection Agency (EPA) has been one part of helping East Palestine recover. Part of their triage has involved stationary air quality monitors to check for potential air toxins. Even after returning to their homes, however, residents reported persistent symptoms aligned with chemical exposure. Since the monitors were stationary, they could only produce data about the regions where they were fixed.
So, the Breathemobile was born.
The Breathemobile is the unofficial nickname of a Nissan cargo van that became a mobile air quality laboratory. It traversed Ohio and Pennsylvania, gathering data on chemical concentrations in the air weeks after the derailment. Now, the Breathemobile's operators — mechanical engineering and environmental toxicology researchers at Carnegie Mellon University and Texas A&M University — have published their findings today in the journal Environmental Science & Technology Letters, bolstering the EPA's data on air quality and demonstrating the utility of a mobile air quality lab.
Breathing easy
On February 20 and 21, the Breathemobile sped through Ohio and Pennsylvania, sampling the air near and far from the derailment. The instruments took in a data point every second using a mass spectrometer that could analyze about 50 airborne chemicals, adding to and validating the EPA's ample data. Oladayo Oladeji, the paper's first author and a PhD candidate for mechanical engineering at Carnegie Mellon University, operated the Breathemobile. Between its mobility and sensitive instruments, it took in a vast array of data.
Oladeji says various chemical concentrations spiked or plummeted in different regions, as was to be expected. One chemical of particular interest was acrolein, which has an acrid smell and can irritate the respiratory systems of those who inhale it. For residents nervous to return home, a mobile air quality lab may offer reassurance (or confirmation) of clean air.
"You're seeing results while you're measuring on the spot," Oladeji tells Inverse.
The EPA's tools and methods aren't as sensitive, but that's not a bad thing.
Knowing for next time
It's been some time since the derailment, however. The study's importance in part comes from validating the EPA's data and demonstrating lower levels of gases like acrolein, but this paper isn't about supplanting EPA tools.
"I would be shocked if the concentrations were not lower, if not back to, what they would have been in the before-time," Albert Presto, the paper's supervising author and research professor of mechanical engineering at Carnegie Mellon University, tells Inverse. "But it's important to have data to show that the concentrations have been going down."
The Breathemobile's relevance also comes from what it can tell us during times of quiet, not just disaster.
"People are really good at recognizing big events, like the tower of black smoke," Presto tells Inverse. Such disasters happen, but infrequently. It's not often that contamination comes so clearly from a single source.
"But, there are lots and lots of little sources all around," Presto says. "That can be like smaller industries [or] a road that has more trucks." Some smaller polluting sources, he says, might be gas stations or dry cleaners. Understanding what a town or city's baseline air quality looks like at different points can help provide context when a disaster that alters air quality comes about.
Next stop?
Oladeji hopes to continue monitoring air quality around East Palestine with the mobile air quality laboratory. He's interested in seeing how chemical concentrations have changed since February. Perhaps that might give a more complete portrait of East Palestine's baseline air quality.