Samsung Can't Resist the Call of the Metaverse
In its annual Unpacked event, Samsung teased an upcoming XR partnership with Google that will yield new mixed-reality hardware.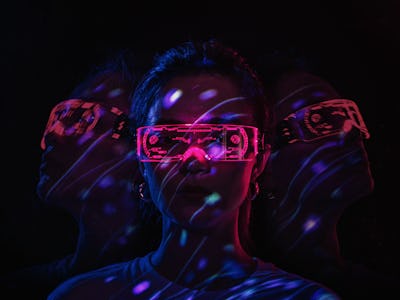 Late in 2022, I declared "metaverse" the tech word of the year. And if a raft of Apple rumors, a buzzy new Meta headset, and continued interest from NFT-hungry celebrities is any indication, that assessment was correct. But just because 2022 was big, doesn't mean 2023 won't be even bigger. See: Samsung's recent XR announcement.
Following suit with Meta and Apple, Samsung recently unveiled its plan — during an event for the Galaxy S23 and Galaxy Book laptops — to push into the burgeoning world of VR, AR, and XR technology with its own (still very mysterious) hardware. The endeavor will be a collaborative one and enlist the help of Google, which is set to design a version of Android specifically geared towards powering mixed reality experiences.
Are we surprised to see Samsung hopping on a trend as major as mixed reality right now? My rhetorical question says it all. But even if the move is somewhat expected, it could be a major one for the space.
Samsung's XR future
So, what exactly does Samsung plan to add to the mixed reality equation? Well, let me start by saying... we have almost no clue.
In an interview with The Washington Post, Samsung alludes to hardware, which really could mean any number of things. Maybe that means a mixed-reality headset like the one rumored to be forthcoming from Apple. Maybe that means a more VR-like device like Meta's Quest Pro, or HTC's new Vice XR Elite. Maybe we'll get a complete left turn with some kind of Hololens-like AR device.
Samsung previously dabbled in VR with the now-defunct Gear VR headset — a small headset that coupled with Samsung phones. But things have changed since 2015, and this time around will likely usher in a more mature product.
At this point, it's still anyone's guess what that product will be, but either way, Samsung is making a bigger push into XR, and it won't be doing so alone.
On the software side, Samsung's TM Roh told The Washington Post, Google will be making an "unannounced version of the Android operating system meant specifically to power devices such as wearable displays." To augment the software side of things, Samsung also said it will be working with both Meta and Microsoft on "services partnerships," which is, again, fairly ambiguous.
Software isn't the only side of things that Samsung will get help on. Qualcomm, a long-term partner, will be enlisted to make the chipset that runs its so-far mysterious XR hardware.
Samsung is clearly embracing collaboration here — a starkly different approach compared to competitors like Meta which spent billions of dollars last year in VR development. Samsung might not be able to revel in all the glory of a headset made and powered by so many different companies, but from a financial standpoint, it's hard to argue with teamwork.
Samsung's XR timeline
Obviously, many questions remain about Samsung's XR product, and a timeline is no different. According to The Washington Post, we could see a reveal relatively soon.
If rumors are to be believed, a near-future release could offer a counter to Apple's allegedly impending reveal of its own, premium, mixed-reality device, which could arrive as soon as this spring.
Then again, entering an entirely new product category is no easy feat, even if you have the help of mainstays like Google and Qualcomm. And as Roh noted to The Washington Post, the hardware will mean little for consumers if there are no ecosystems and experiences to justify buying a headset.
Samsung clearly still has some loose ends to tie up, and while there are a lot of open questions about its efforts, one thing is certain: more face computers are on the way, whether you want them or not.