Pimax actually found a way to fuse the Nintendo Switch with a VR headset
At CES 2023, Pimax hardware that seemed like vaporware became much more real.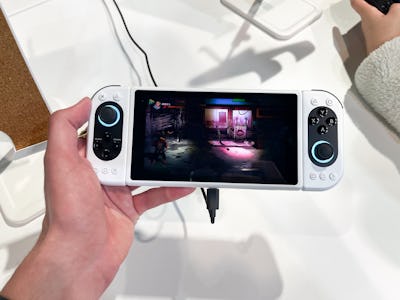 Ian Carlos Campbell / Inverse
I was skeptical of the Pimax Portal, but after trying the odd Android handheld and virtual reality headset hybrid at CES 2023, I can confirm that Pimax's do-it-all machine really does work.
Pimax launched the Portal's Kickstarter campaign in November 2022 with the framing that its latest hardware is "the world's first metaverse entertainment system" thanks to a suite of accessories that can convert it into a Quest 2-like VR headset, home console, or larger handheld. But based on my time with the Portal the real issue for the device isn't whether its hardware is up to the test but whether it'll have the apps and games to take advantage of its flexibility.
More Switch Lite than Steam Deck
As a refresher, the Pimax Portal ships with a respectable collection of specs that put it in line with other VR hardware in its general $300-$400 starting price range. Here's what you'll get if you back a Pimax Portal:
Pimax Portal Tech specs
CPU: Qualcomm Snapdragon XR2
GPU: Qualcomm Adreno 650
Memory: 8GB of RAM / 128GB of storage OR 8GB of RAM / 256GB of storage
Display: 5.5-inch, 3,840 x 2,160 resolution, 144Hz LCD or QLED display
Tracking: 6DoF (six degrees of freedom) tracking via four back cameras
Battery: 4,000mAh
The Pimax Portal has tiny controllers, but plenty of buttons.

Ian Carlos Campbell / Inverse
Slotted into VR adapters, the Pimax Portal's controllers look like the Quest 2 Touch Controllers.

Ian Carlos Campbell / Inverse
The Pimax Portal has vents for cooling and four main rear cameras for inside-out tracking.

Ian Carlos Campbell / Inverse
Holding the Pimax Portal during my hands-on demo, I was most surprised by how small the device actually is. Maybe it's my time with the Steam Deck, but this handheld is positively petite, with removable, soft-touch plastic controllers (compatible with housing that lets them work with VR) that are smaller than you'd find on the Switch.
Playing through Streets of Rage 4, the buttons and sticks did the job but were maybe a tad mushier than I'd like if I was playing in handheld mode for longer periods of time. In terms of games, there's anything you can get off the Play Store, access to various game streaming services, plus a selection of VR-specific experiences available through Pimax's store.
Kind of complicated
When you decide to switch to VR, it's simply a matter of toggling Pimax's VR launcher from the Portal's home screen, sliding the controllers off the Portal, and sliding the handheld into one of three of Pimax's Portal View accessories. The major difference between each is how wide your field of view (FOV) is while you wear it, with options for either 60, 100, or 140-degree FOVs with tradeoffs on pixel density depending on which you pick.
This ultimately makes deciding what you'll want for your Portal more complicated than it needs to be, but thankfully the system does work as expected. This might not replace Pimax's higher-end headsets like the Pimax Crystal, but if VR is more of a nice-to-have than your main draw, you'll be happy with what Pimax can accomplish with the Portal's 4K screen.
If you can get over the fiddliness of the whole Pimax Portal experience, the leading cause for concern I have coming out of the demo is if it's going to have the VR experiences anyone will want to play. Pimax offers a wide variety of content, but will it have the kinds of exclusives Meta or HTC will secure for their headsets?
It's hard to say, but if you're interested in the Pimax Portal, Pimax is still accepting backers on Kickstarter for the truly adventurous.
INVERSE brings you everything from the fun and futuristic world of consumer technology at CES 2023. For all the latest technology coverage from the show, go to the INVERSE CES 2023 hub.