Every last detail about Microsoft's Xbox Series X
All of the juicy Series X details are in, here's everything you need to know.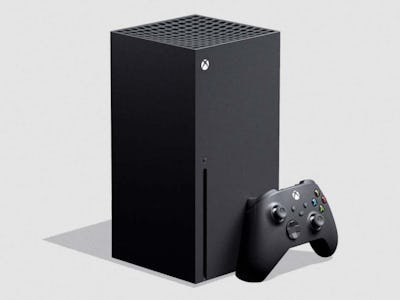 Microsoft has finally pulled back the curtain on the Xbox Series X following a slew of leaks that revealed the design, price, and specs for the budget-friendly Xbox Series S.
There are no more secrets between Microsoft and gamers just two months before release. The company announced launch dates for new consoles, when customers will be able to pre-order them, and how much each of them will cost on September 9. The next-generation consoles are ready to hit shelves worldwide, but there are still some details that might cause fans to hold off on buying one of the new Xboxes right at launch.
Microsoft's biggest launch title — Halo Infinite — was delayed until an unspecified date in 2021, well after the Series X's release. This new batch of Xbox systems are sorely lacking noteworthy next-gen launch title exclusives, which could have gamers waiting until the eventual release of Halo Infinite before they splash out on the Series X's premium price tag.
That isn't so reassuring since Microsoft will be going up against Sony's PlayStation 5, which is precariously also missing a next-gen launch title but has an established roster of iconic franchises. Microsoft will need to sweeten the deal to make its premium console slightly more tempting right out of the gate, but the announcement of the Series S could see Microsoft pull ahead in the next-gen console war.
What's most important to you about next-gen consoles? Take our poll!
Currently, the Xbox One is estimated to be lagging behind the PS4 in overall sales, and the fact that Microsoft stopped releasing Xbox sales numbers in 2018 didn't exactly inspire confidence. But with the grand return of Master Chief on the horizon and an affordable, new console option could be enough to see the company pull ahead of Sony right off the bat.
Here's everything we know about the Series X.
When is the Xbox Series X release date?
Microsoft has revealed that the Series X will be released on November 10, 2020, which is in line with all of its previous Xbox releases. But this year will be a bit earlier than usual.
The Xbox One was released in North America on November 22, 2013; the Xbox 360 dropped on the same date in 2005, and the original Xbox launched on November 15, 2001. Microsoft has stuck with tradition, but is launching the Series X five days earlier than any other Xbox before it.
How much will the Xbox Series X cost?
The Series X's price was also unveiled the same day its release date was announced. Microsoft's premium console will cost $499 up-front or customers can opt for a payment plan and receive a number of other perks.
For 24 monthly payments of $35, gamers can get the Series X along with the Xbox All Access which comes with 24 months of Xbox Game Pass Ultimate. That gives users access to a monthly catalog of free games that rotate every month. Microsoft seems keenly aware that the economic uncertainty brought on by the coronavirus pandemic will influence how much money customers have to spend on games and is trying to make even its priciest console as accessible as possible.
In a June 2020 interview with the BBC, Xbox chief Phil Spencer noted that he was well aware of how important a reasonable price point will be this year with the economic hardships that have befallen many people around the world because of the coronavirus pandemic.
"[The] strategy is centered around the player, not the device," he said. "We see the impact of people getting furloughed and layoffs. It's tough. And we are a leisure activity. We're not a requirement ... So we want to be really tuned in to that as we launch. How can we make it as affordable as possible? How can we give buyers choice?"
This could very well pay off as polls indicate that the price of the Xbox Series X will be the most important factor when gamers are deciding between Microsoft's next-gen console or the PS5.
Are Xbox Series X pre-orders available yet?
Pre-orders for the Series X begin on Tuesday, September 22, Microsoft announced on September 9. That'll be the earliest gamers can reserve the next-gen console.
Major retailers, like Amazon, Best Buy, Target, GameStop, and Walmart each have their own Series X landing page, which will most likely be where you'll need to navigate to lock down a console if you're shopping online. Many of these sites allow customers to set up email notifications as soon as Series X pre-orders go live.
Will there be a second next-gen Xbox?
The Xbox Series X will come with a cheaper, less powerful counterpart called the Xbox Series S, which will also be released on November 10 and similiarly be available for pre-order on September 22.
Microsoft was forced to reveal its entire next-gen console master plan after a batch of major leaks blew the lid off of the Series S on September 8. Read more about the more affordable next-gen Xbox here.
Xbox Series X features and specs
Microsoft revealed just about everything there is to know about the Xbox Series X in a March 16 Xbox Wire post.
Here are other standout features that Spencer previously announced:
More comprehensive backward compatibility than the PS5, including Xbox 360 and original Xbox games.
The Xbox will support ray tracing, a graphical rendering technique used by high-end gaming PCs that let games look more lifelike than ever.
Quick Resume will let gamers continue multiple games from where they last left off instantly, no lengthy loading screens required.
Dynamic Latency Input (DLI) will supposedly further decrease any lag gamers might have experienced when using their wireless Xbox controllers.
Smart Delivery will let gamers buy a game once on any Xbox console and let them play it across the platforms without repurchasing it.
Game Pass Ultimate subscribers will be able to play Series X games on their phone or tablet anywhere with a decent wi-fi network, revealed Spencer in a July 16 blog post.
What is Smart Delivery on Xbox Series X?
If you're thinking of holding off on purchasing current-gen games that will likely straddle two console generations — like Cyberpunk 2077 and Gears 5 — you're in luck: Series X's new Smart Delivery feature means you can buy the Xbox One version of a game and get the enhanced Series X version for free once it's available.
This bold choice is a welcome change from what's previously been the industry standard, namely having to buy multiple copies of the same way. (We're looking at you, Nintendo.)
What Smart Delivery games will be optimized for the Series X?
Developers who launched games on the Xbox One and offer their titles as part of Smart Delivery will have the option to upgrade their games' graphics so it uses the Series X's hardware upgrades to its full potential.
It'll be up to the individual developer to decide whether or not they want to essentially remaster their title for the Series X. During its Xbox Game Showcase announced that a handful of more titles will receive the Smart Delivery treatment once the Series X launches
Here is the current list of Smart Delivery games that will have improved textures and graphics when players run them on the next-gen consoles.
Halo Infinite
Cyberpunk 2077
Watch Dogs: Legion
Assassin's Creed Valhalla
Destiny 2
Bright Memory Infinite
DiRT 5
Madden NFL 21
Scarlet Nexus
Chorus
Scorn
Vampire: The Masquerade - Bloodlines 2
Yakuza: Like a Dragon
The Ascent
Call of the Sea
Gears 5
Second Extinction
Metal: Hellslinger
Forza Horizon 4
Gears Tactics
Ori and the Will of the Wisps
Sea of Thieves
New games coming to Xbox Series X
Microsoft's Xbox Games Showcase was centered around the titles that will ground the Series X launch in the fall. Here's an updated list of all of the games that will launch on the next-gen console either at launch or sometime after.
Halo Infinite
As Dusk Falls
Avowed
Fable
Forza Motorsports
The Gunk
Phantasy Star Online 2: New Genesis
S.T.A.L.K.E.R. 2
State of Decay 3
Tetris Effect: Connected
Warhammer 40,000: Darktide
Cyberpunk 2077
FIFA 2021
Gears 5
Call of Duty
Minecraft Dungeons
Spiritfarer
Battletoads
Wasteland 3
PsychoNauts 2
Lego Star Wars: The Skywalker Saga
12 Minutes
Way to the Woods
Dying Light
Crossfire X
Tales of Arise
Xbox Series X will be released November 10, 2020.
This article was originally published on