Titanfall 2's Unexpected Update Hints at an Apex Legends Collab
Respawn is teasing a return to Titanfall – but don't expect a new game.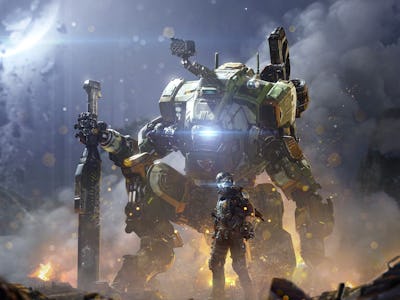 EA
It's been almost seven years since Respawn Entertainment released what may be the best FPS in the past decade, Titanfall 2. It seemed as though the developer had put the franchise behind them, moving on to Apex Legends — and a galaxy far, far away.
But fans of the mech FPS game hold fast to the hope that the franchise will return one day. Thanks to a string of unexpected events in the past week, like the return of Titanfall 2 multiplayer, fans are starting to believe that one day may come sooner rather than later.
While Titanfall 2's campaign is one of the best FPS campaigns ever made, the game's adrenaline-pumping multiplayer was also praiseworthy upon the game's launch in 2016. Though the multiplayer has been completely broken for years thanks to server issues and constant DDoS attacks. That all changed overnight with a stealth update that seems to have fixed these problems, causing a surge in players on Steam eager to dive back into multiplayer.
This alone is a nice benefit for franchise fans, but it isn't the only Titanfall-related news that Respawn has graced the community with. The current season of Apex Legends, dubbed Resurrection, released its latest patch notes which included the usual balance updates, but at the end of the post, there was an extra bit of text. It reads "Incoming Transmission…. Subject: Nessie…." referring to the Loch Ness Monster plushies found in the Titanfall and Apex Legends games.
The message then includes a string of numbers: 1394521200, 1477638000, 1549267200. The community has decoded the numbers and discovered they refer to the release dates of Titanfall, Titanfall 2, and Apex Legends respectively.
Additionally, the Resurrection season of Apex Legends concludes at the end of October, coinciding with the anniversary of Titanfall 2's release. For all this to happen in the span of a few days seems almost too coincidental.
While many fans are hoping that this means Titanfall 3 will finally become a reality, that seems unlikely. Titanfall 3 was a real project at Respawn at one point before the developer pivoted to focusing on Apex Legends. Apex Legends and the Star Wars Jedi series are keeping the developer busy now, and there doesn't seem to be room for a full-fledged follow-up to Titanfall 2. That doesn't mean the franchise won't be making some kind of comeback though.
It can be easy to forget that Apex Legends is actually a spinoff of Titanfall, and takes place in the same universe. There are plenty of references in the battle royale, and the two series share weapons. If Respawn is teasing fans with a Titanfall comeback, the most likely scenario is that it will take the form of an Apex Legends event.
Limited-time game modes in Apex have managed to add plenty of weird mechanics that mess with the traditional battle royale, and while Respawn has said in the past that Titans just wouldn't work in Apex Legends, that could change with a dedicated game mode that lets players enter the cockpit again. The high mobility of Apex Legends continues to owe everything to the pilot gameplay in Titanfall, so it isn't a reach to put that acrobatic gunfighting back into Apex Legends to give fans of the franchise something to be excited about.
Until Respawn makes an official statement, we won't know if Titanfall is making a comeback, but until then fans will just have to keep their hope alive. They have been doing it for years, so what's a few more weeks?
Titanfall 2 is available for PS4, Xbox One, and PC.