Hadouken! Everything We Know About Street Fighter 6
Are you ready for round six?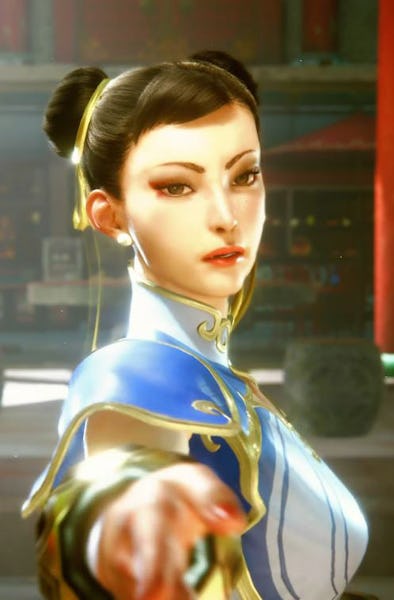 Capcom
Street Fighter 6 was first revealed back in February 2022. The sixth entry in the franchise will mark more than 35 years of the long-running series. Now it's a matter of weeks — not months — until we get our hands on the latest installment of Capcom's venerable fighting game series
Street Fighter 6 Release Date
Street Fighter 6 will be released on June 2, 2023. Capcom previously announced it would release in the summer of 2023, so it's still right on schedule.
The game has been a known quantity following a Capcom hack in late 2020, suggesting the project should be fairly deep in development at this point.
Street Fighter 6 Trailer
At this point, Street Figther 6 has multiple trailers. It even had a dedicated showcase in April 2023.
The first trailer confirmed some of the characters joining the roster and a look at some exciting gameplay mechanics that mark a departure for the long-running franchise. Players have a lot in this trailer alone to look through in preparation for the game's release.
At Evo 2022, Capcom shared even more with the audience, announcing two new fighters in the newest gameplay trailer. Feast your eyes:
Capcom also shared another trailer at the Game Awards that featured newly announced characters: Dee Jay, Manon, Marissa, and JP. Each had a gameplay spotlight in the reveal. It's also the first time Capcom confirmed the release date and pre-order bonuses for Street Fighter 6.
Capcom continued with more trailers in 2023. First during a Sony State of Play in February, then during a dedicated Capcom Spotlight stream in March. Both showed off more combat and new characters added to the extensive roster.
The latest Street Fighter 6 showcase revealed a new area called Nayshall, RPG elements used for the World Tour, custom Avatar Battles, accessibility options, future characters, and more coming with the game's highly anticipated summer release.
Street Fighter 6 Character Roster
The original teaser trailer only showed Ryu and Luke. Between the initial announcement, State of Plays, and Evo 2022, the roster has reached a total of 18 fighters. The latest State of Play revealed gameplay for the final three fighters in the starting roster, Cammy, Zangief, and Lily.
Here are all the confirmed characters.
Returning:
Newcomers:
Jamie
Kimberly
Manon
Marisa
JP
Lily
Upcoming:
Eagle-eyed viewers found that the original State of Play trailer revealed the potential full roster for the game. Posters on Reddit combed through the trailer and found a series of flash frames that show art and name all the playable characters. This isn't confirmed but based on the art for new characters like Jaimie, it seems likely Capcom stealth-announced no fewer than 22 fighters for Street Fighter 6. So far the original leak appears to be accurate, though some characters like Manon are misnamed in the leaks.
And, if the initial roster doesn't wow you, a 2020 data leak suggests Capcom plans to release two iterations of Street Fighter 6 in the coming years. Franchise convention is that these titles will likely be called Super Street Fighter 6 and Ultra Street Fighter 6 if and when they release, but we'll have to wait for an official confirmation to be certain.
Street Fighter 6 Customization
Street Fighter 6 offers players the option to create their own custom avatar in World Tour, a game mode that lets you play as your own character and learn from the different members of the cast. You can use this same avatar to fight in Avatar Battles in the Battle Hub. Custom avatars have their own game mode because of how diverse the skill pallettes can be. For example, you can have a character with Dhalsim's fighting style, Zangief's Screw Piledriver, and Ken's Hadoken.
Street Fighter 6 Game Modes
Street Fighter 6 seems to have more of a focus on open-world and multiplayer components than previous titles. Fighting Ground represents the traditional game modes that you would see in most Street Fighter games. Meanwhile, World Tour and Battle Hub expand beyond that.
Fighting Ground: The typical Street Fighter fare, including Arcade, Online, and Local Versus Modes.
Arcade Mode: Single-player mode in the Fighting Ground section. Fight against CPU cast members and learn about their backstories.
World Tour: Single-player story mode where the player can create an avatar and interact with the Street Fighter world as their own character for the first time. Your character can learn to fight from "masters" and challenge others with what they've learned.
Battle Hub: Online multiplayer lobbies where players can interact with each other using the avatars they created in World Tour.
Street Fighter 6 Gameplay
For the most part, Street Fighter 6 plays like previous entries in the franchise. Fans can expect to see new moves added to characters, along with balancing changes that come with the addition of entirely new characters to the roster.
Capcom originally announced that two different control types for SF6:
Classic: Uses traditional 6-button layout that most fighting games adhere to.
Modern: Uses "Special Move" button that performs complex moves when pressed with another input. In addition, players can press the "Assist" button to make button-mashing less of a necessity.
While this makes the game a little less complex for newcomers it is also an exciting way to make the game more accessible to players with disabilities that might make the intense button presses of a fighting game difficult to play.
During the Street Fighter 6 Showcase, Capcom revealed a third control type.
Dynamic: Uses Auto-Attack button and AI assist to land attacks and combos.
Street Fighter 6 Drive System
The Drive Meter replaces the V-Meter from Street Fighter 5. It's part of the "Drive System," which includes five special moves that you can activate if you have meter:
Drive Impact: Executes heavy attack that can absorb the opponent's incoming move and pin them against the wall, even if they block.
Drive Parry: Cancels an opponent's attack and restores Drive when successful. Turns into a "Perfect Parry" if performed just before the opponent hits.
Overdrive: Turns a special move into a stronger "Overdrive Art" move. Similar to EX Special Moves from past games.
Drive Rush: Quickly rushes out of a Drive Parry or cancellable normal attack. Costs 1 Drive Stock from a parry but 3 Drive Stocks from a normal attack.
Drive Reversal: Counters with low damage move while blocking opponent's attack. Useful for escaping tight situations when pressured.
Street Fighter 6 Platforms
Capcom's official Street Fighter 6 announcement revealed it would be coming to PS5, PS4, PC, and Xbox Series consoles. This will be good for Xbox players who were left out of receiving a version of Street Fighter 5. As we are deeper into this console generation, it's interesting the game will stay on last-gen consoles. But as most of the competitive community is on PS4 and with the continued difficulty in current-gen console supply, it might be to ensure the game is accessible to the fans.
Street Fighter 6 Pre-Orders and Special Editions
There are several different editions of the game that you can purchase, as well as rewards for pre-ordering the game. Here are all the deatils.
Regular Edition (physical or digital):
Price: $59.99
Pre-order to receive Outfit 1 Color 10 for Chun-Li, Jamie, Manon, Dee Jay, Juri, and Ken.
Regular Edition (digital via PlayStation store):
Pre-order to receive 18 special player titles and chat stickers.
Deluxe Edition (digital or physical):
Price: $84.99.
Year 1 character pass: 4 additional characters and their respective Outfit 1 Colors 3-10, and 4,200 Drive Tickets.
Ultimate Edition (digital only):
Price: $104.99
Year 1 ultimate pass: everything inside Year 1 character pass as well as...
Outfit 2 and 3 Colors 1-10 for Year 1 character pass characters.
2 additional stages.
7,700 Drive Tickets.
Mad Gear Box (GameStop exclusive):
Price: $249.99
Everything from the Ultimate Edition
Mad Gear Box
POP UP PARADE Figures Luke and Kimberly
Artbook
Sticker Set
Figure Diorama Boards
Street Fighter 6 is coming to PS4, PS5, Xbox Series consoles, and PC on June 2, 2023.
This article was originally published on