Starfield Just Solved One of Game Pass's Biggest Problems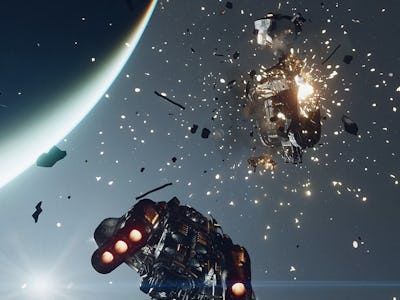 Bethesda
Gamers worldwide have been waiting years to get their hands on Starfield, which finally releases on September 6. But Starfield's Premium Edition presented a solution for those who couldn't wait: early access to the game.
While Game Pass subscribers will be able to play Starfield on release day, Bethesda's offering a Premium Edition Upgrade to give even Game Pass subscribers early access. The cunning pln may just have solved one of the biggest perceived problems of the subscription service — sales.
The beauty of Game Pass's "Netflix of games" approach to offering players a wide selection of content is that rather than shelling out full price for every game you want to play you can just pay a reasonable subscription fee every month.
While the benefit was obvious for subscribers, there wasn't a clear indication as to why a developer would want their new games on the service day one. Microsoft even admitted in a report to the UK's Competition and Markets Authority in February that Game Pass decreases base game sales of titles on the service.
For companies acquired by Microsoft, like Bethesda, day one availability on Game Pass seems to be the new normal. The prospect of losing out on sales for any company isn't appealing, and Bethesda seems to have found the solution to the problem in Starfield's Premium Edition.
Starfield's Premium Edition costs $99.99 ($30 more than the base game) on Steam and grants players access to the game five days earlier than everyone else. The promise of early access is clearly convincing enough, as Starfield has already reached nearly 250,000 concurrent players before the game's official release. This means all those players purchased the Premium Edition.
Typically, Game Pass subscribers would be left out of this early access period, but Bethesda has found a way to satisfy those players while making even more money. The Premium Edition Upgrade is a DLC available for purchase on Xbox for $34.99 that grants Game Pass subscribers the ability to download and play Starfield early. The Premium Edition Upgrade is currently the best-selling item on the Microsoft Store in the US.
By leveraging the immense hype for Starfield, Bethesda is effectively able to sell Starfield to Game Pass subscribers on top of the subscription fee they already pay which would get them free access to the game on release day.
This strategy has the potential to be a big win for Microsoft, who could use a game's anticipation to leverage more profit from players. However, this would only work for games that have massive hype cycles that lead to fans clamoring to play the game as soon as possible. It wouldn't be surprising to see this become the norm for the likes of Halo or Fable (if it ever releases).
The dark side of this strategy is that it relies on, and will likely encourage, the already toxic hype cycles that permeate the video game industry. Fanatic anticipation of big releases has often led to bad behavior from fans in the past, notably in 2022 with God of Wår Ragnarök developers receiving harassment after failing to deliver an update on the game after a dubious leaker hinted information would be coming.
While Premium Edition's offering early access is not new, the prevalence of such DLC offerings may become far more prominent in the age of Xbox Game Pass in hopes of encouraging people to spend even more money to play their favorite games. Those who can't or won't shell out the extra money to be part of the big new thing will be left on the outside of the conversation. The danger is letting these upgrades evolve into an extra tax on the player.
Starfield launches September 6 on Xbox Series X|S, PC, and Game Pass.