"Activision Blizzard can't stop this." Why Raven's union is just the beginning
Industry analysts reflect on what it means for the future of gaming.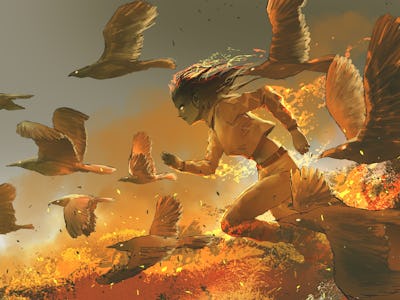 Shutterstock
Activision Blizzard has been a constant fixture in the gaming industry news cycle for years now, as the Call of Duty publisher is continuously embroiled in controversy after controversy. Amidst it all, a group of quality assurance workers at Raven Software, a studio owned by Activision Blizzard, have just voted to form the first major union in American video game development. On May 23, 2022, employees passed a vote that made the union official, and it's a major moment for the industry that could have far-reaching effects in more than one way.
What happened?
The push for unionization first started when Activision Blizzard laid off a dozen QA workers in December 2021. Shortly before then, the workers had been promised increased wages and assistance with relocating for the job. This led to Raven workers staging a walkout in protest, which gained support from other Activision Blizzard employees around the country.
After weeks of radio silence from management, the Raven employees announced on January 21 that they were seeking to make a union and formed the Game Workers Alliance (GWA). From there, months of legal struggles ensued as the employees sought to be recognized as their own unit, which would then lead to a union vote. During that time, management at Activision Blizzard was accused of a variety of union-busting tactics, like shuffling QA employees into other departments. Now almost six months after the initial layoffs, Raven Software employees have formed the first major union in the video game industry.
Why is this union important?
Comparatively, video games are lagging behind other entertainment industries in terms of unionization.
The film industry has organizations like the Writers Guild of America (WGA), while the music industry has the American Federation of Musicians of the United States and Canada (AFM). This means that game developers, traditionally, have had no platform to negotiate for better pay or improved working conditions. Michale Futter, Founder and CEO of consulting firm F-Squared, tells Inverse that the industry should've trended towards unionization years ago.
"An organized labor movement has been necessary in the game industry for a long time," Futter says. "This is especially true for AAA publishers that hold all the power and share as little of the reward as possible with those working in the trenches to get games through the development process and to market."
All of this now means that the Raven Software employees have an organization that can help bargain for better pay and more favorable working conditions. This is especially important in light of all the sexual harassment and mistreatment cases that have emerged from Activision Blizzard. In a press release, Communication Workers of America Treasurer Sara Steffens wrote, "Quality assurance workers at Raven Software are bringing much-needed change to Activision and to the video game industry. At this critical time for the company and its employees, these workers will soon have an enforceable union contract and a voice on the job."
The new union can help provide vital protections for QA workers, who have traditionally been exploited by being "contract workers" that don't receive the benefits of full employment. It could also lead to even more changes within Activision Blizzard and potentially more unions at studios the publisher owns. "This is a major moment for video game workers that will hopefully lead to more collective bargaining units at other studios," Futter says. "This will absolutely change the relationship between workers and management, though there may be some growing pains. This will ultimately lead to a happier workforce and an environment that doesn't drive out bright, creative employees due to abusive and toxic workplaces."
What could this mean for the industry?
The truly important piece in all of this is that despite Activision Blizzard's best efforts, the union successfully formed anyway. It's a tremendous example of the power being put in the workers' hands and not the multi-billion-dollar company that has little regard for their rights. It may also be the domino that starts a chain reaction.
Each year, the Game Developer's Conference (GDC) releases a "State of the Game Industry" report that surveys over 3000 developers. In 2022's report, 55 percent of those surveyed responded "yes" to the question "Do you think that workers in the video game industry should unionize?" Surprisingly, however, only 18 percent responded "yes" when asked if they thought game workers would actually unionize. One of the major obstacles preventing unionization is that there simply was no precedent. No one knew how a union would work in AAA game development, and resources to help form a union was scant within the industry.
Now that's changing.
The GWA is technically the second union in the game industry, as in December 2021 the indie developer Vodeo Games partnered with the CWA to unionize. In April contract workers at BioWare also announced they were seeking to unionize, following a forced return-to-office mandate.
The Raven Software union isn't going to change the industry overnight, or even fix the problems at the studio overnight. However, it's a massive success that could inspire countless other studios and employees to follow suit. "There's work to be done, but this is a great step forward for the industry," Futter says. "Companies like Activision Blizzard can't stop this, so they should start making plans to work in good faith with the union."