Everything you need to know about PlayStation 5 backward compatibility
How many games from the PS back catalog are available?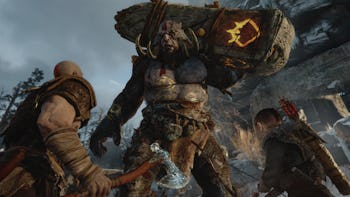 While the PlayStation 5 has a solid slate of games like Marvel's Spider-Man: Miles Morales and Demon's Souls, backward compatibility is also a very important factor for many players. While the PlayStation 4 did not feature any sort of PlayStation 3 backward compatibility, Sony took a different approach with the PS5, which relieves many long-time Sony fans.
Here's everything you need to know about the PS5's backward compatibility.
Is PS5 backward compatible with PS4, PS3, PS2, and PS1?
Sony confirmed via an article published by Famitsu back in September 2020 that backward compatibility was a consideration when designing the console. "We keep in mind the engineering specialized for the PS5, as we produced the device," a Siliconera translation reads. "In the midst of that, the PS4 already has 100 million players; We thought they ought to want to play PS4 titles on the PS5 as well indeed, so we included compatibility with the PS4."
In other words, Sony deemed the PS4 the most important console to support when it came to backward compatibility. PlayStation's Jim Ryan has also been fairly negative towards PlayStation's retro games in the past.
"When we've dabbled with backward compatibility, I can say it is one of those features that is much requested, but not actually used much," he said in a Time Magazine interview from 2017. "That, and I was at a Gran Turismo event recently where they had PS1, PS2, PS3, and PS4 games. And the PS1 and the PS2 games, they looked ancient, like why would anybody play this?"
It is possible that the PS1, PS2, and PS3 could gain some form of support through ports or PlayStation Now, but Sony hasn't clarified if that will be the case as of yet.
Which PS4 games are backward compatible with PS5?
Jim Ryan told the Washington Post as part of an interview published on September 16, 2020, that "99 percent" of all PS4 games can be played on PS5. The PS4's biggest games, like God of War, The Last of Us Part 2, and Ghost of Tsushima, are surviving the transition just fine.
Which games aren't backward compatible with PS5?
While the titles that seemed at the most risk of not carrying over were sports and licensed games, that isn't actually the case. When Sony detailed PS5 backward compatibility, they confirmed that the following 12 PS4 games are not playable on PS5 on a support page for backward compatibility:
DWVR
Afro Samurai 2: Revenge of Kuma Volume One
TT Isle of Man - Ride on the Edge 2
Just Deal With It!
Shadow Complex Remastered
Robinson: The Journey
We Sing
Hitman Go: Definitive Edition
Shadwen
Joe's Diner
Demos, non-game applications like Netflix, and other media like the movies on the PlayStation Store are also not accounted for. Regardless, you'll know whether or not a game is only on PS4 if its store page is marked with a label that says "Playable on: PS4 only."
How does backward compatibility work on PS5 Digital Edition?
If you're one of the lucky few that was able to pre-order a PS5 Digital Edition, PS4 backward compatibility will be a bit more difficult. While all digital games will carry over, if you have a library of physical PS4 games, there is no way for you to use them on your PS5. That's definitely something to consider if you are choosing between getting a regular PS5 or a PS5 Digital Edition.
The aforementioned support page confirms that PS4 games can be accessed digitally through a Wi-Fi data transfer or by using an extended storage drive and manually transferring the data. Alternatively, you can go to your Games Library on PS5 and choose to download the game directly to your system.
How are PS4 games enhanced when played on PS5?
In general, PS4 games will load faster on PS5 thanks to the SSD. Titles like Ghost of Tsushima do take more direct advantage of the PS5's Game Boost mode, which lets you play older games at a higher frame rate thanks to the PS5's added power.
PS5 also supports HDR by default, meaning that you'll automatically see the most visually rich version of a game that you are playing. If you're making the jump from a base PS4 and not a PS4 Pro, these enhancements are more immediately noticeable.
What does the PlayStation Plus Collection mean for PS5 backward compatibility?
The PlayStation Plus Collection will be the quickest way for most PS5 Digital Edition owners to experience some great PS4 games.
Sony confirmed the PlayStation Plus Collection during the September 2020 PS5 Showcase. This is a special program for PS Plus members that gives automatic access to several classic PS4 games. It's not as robust as Xbox Game Pass because new PS5 games published by Sony won't be included, but fans of backward compatibility will definitely enjoy the PlayStation Plus collection.
The PlayStation 5 is currently available for purchase.
This article was originally published on