Hydreigon and Dragapult star in the next Pokémon Scarlet and Violet Tera Raid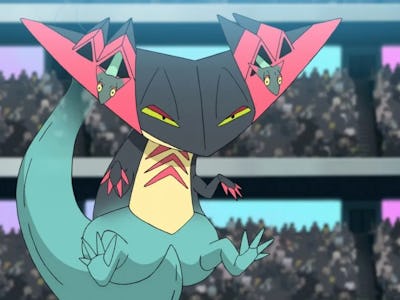 The Pokemon Company
Pokémon Scarlet and Violet already have plenty to do, with three separate storylines for playest to make their way through, hundreds of Pokémon to catch, and plenty of sandwiches to make. If you're looking for even more content, however, Nintendo consistently introduces limited-time Tera Raid Battle Events, giving players the chance to battle and capture some particularly strong Pokémon. The first event of 2023 gives Scarlet players the opportunity to battle Hydreigon, while Violet players can take on Dragapult. Here's everything you need to know about the latest Tera Raid Battle Event.
What are Tera Raid Battle Events?
Tera Raids are essentially similar to MMO raids, and they can be undertaken at any time in Scarlet and Violet, not just during the timed events. If you open your map you'll see dozens of icons scattered around that represent different "types." Each of these is a Tera Raid battle, and these battles can be fought solo with AI partners or online with other players.
Tera Raids are quite similar to the raids found in Pokémon Sword and Shield, with the key difference being the Terastalization mechanic. You'll want to choose your Pokémon based on what will work best against the Tera type you're taking on, and before each battle, you'll see a star rating signifying the difficulty of the battle. Higher star ratings mean better rewards, including experience candy and Tera Shards, which are used to change your Pokémon's Tera type. You can also see the rewards you'll get for the raid, making it easier to decide if the battle is worth your time, or not.
Of course, the other big reason to complete Tera raids is to actually catch the Pokémon, and this can be particularly useful as oftentimes the Pokémon features in these raids have unique Tera types. For example, the previous Tera Raid Event features Cinderace with a fighting Tera type, which would normally be pretty hard to get.
When are the Hydreigon and Dragapult Tera Raid dates and times?
Unlike the Cinderace event, the Tera Raid for Hydreigon and Dragapult will only run for one period, so you'll need to make sure and hop onto Scarlet and Violet if you want to take part. Here are the times for the event.
Start: January 5, 2023, at 4 p.m. Pacific
End: January 7, 2023, at 3:59 p.m. Pacific
These two Pokémon will appear in four and five-star raids during the event, meaning they should be around level 45. This means it's currently the lowest level you can catch both Hydreigon and Dragapult.
How to use Tera Shards in Pokémon Scarlet and Violet
The main reward for Tera Raid battles is, of course, Tera Shards, but it can be a bit troublesome if you don't know how to use them. Tera Shards drop from 3-star and above raids and they're very easy to use, however, you'll need to have at least progressed far enough to beat the Normal-type gym in Medali.
Once you've done that you can head to the restaurant featured in the Medali Gym challenge and talk to the chef. For 50 Tera Shards, the chef will allow you to change the Tera type of any Pokémon you want. What a deal!