Now Is the Perfect Time to Play 2021's Best RPG
Let Tales of Arise into your heart.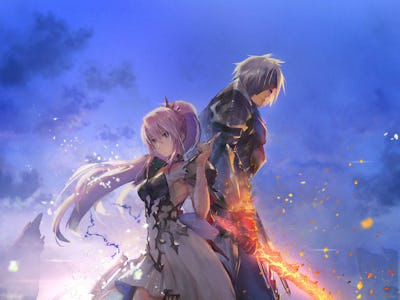 Bandai Namco
Despite its ability to turn out some incredible games, the Tales franchise has remained something of a beloved but quiet pillar of the RPG community. It doesn't have the endless popularity of Final Fantasy nor the high praise of the Dragon Quest series, but it delivers both all the same. The most recent entry in the series, Tales of Arise, was easily the best RPG in 2021. For those who missed it upon release, now is the perfect time to get on board with this modern RPG masterpiece.
At the heart of Tales of Arise is the feature required of any good RPG, a story worth seeing to its end. The Tales series has always had great narratives, and Arise is no different. It follows the slave Alphen and a Renan woman named Shionne. The world of Arise focuses heavily on the conflict between the advanced Renans and the medieval Dahnans, which also gives Arise the ability to pull from classic fantasy and sci-fi tropes and visual styles at the same time.
Yet, more than the Renan and Dahnan conflict, Arise is a love story. Arguably on the level of all-time greats like Final Fantasy VIII and X, Arise is a story that tugs on heartstrings in a well-written and emotionally deep way. Alphen and Shionne are surrounded by a supporting cast that is equally three-dimensional and interesting to learn more about, which feels like a result of the game's fully realized world, its conflicts, and how it influences everyone in the game. Each character's motivation is clear to the player.
Arise also improves upon the franchise's combat by taking a page from the more recent Final Fantasy games and leaning even more into action. Tales games all center around the Linear Motion Battle System, which involves real-time combat in designated battle screens. This is retained by Arise but with the addition of a heavy focus on evasion and countering that makes it feel like a full-fledged character action game. Final Fantasy XVI would take a similar approach to its combat in 2023.
You might be thinking to yourself, "Why should I play a two-year-old game when 2023 is full of great new games?" Which, yes, 2023 has had some incredible games! Just looking at RPGs, 2023 has seen Octopath Traveler II, Final Fantasy XVI, and Sea of Stars released to acclaim.
But no RPG from this year is as good as Tales of Arise. As we head into the slower months of November and December, now is the perfect time to give Tales of Arise the chance it deserves. Whether it's the central love story and loveable cast, the gorgeously rendered world full of adventure, or the exciting action-combat, there is something for everyone to fall in love with in Tales of Arise.
If you do find yourself enjoying Tales of Arise (and why wouldn't you), playing it now has another benefit. Beyond the Dawn, a new expansion to the game that looks to add roughly 20 hours of original content to the game released on November 8. It picks up after the end of the base game and gives players the rare opportunity to find out what happens after the credits role.
Whether this is your first time with Tales of Arise or you want a refresher before diving into Beyond the Dawn, there has never been a better time to play this masterpiece of an RPG.
Tales of Arise is available now on PlayStation, Xbox, and PC.