7 Years Later, No Man's Sky Is Still Gaming's Greatest Comeback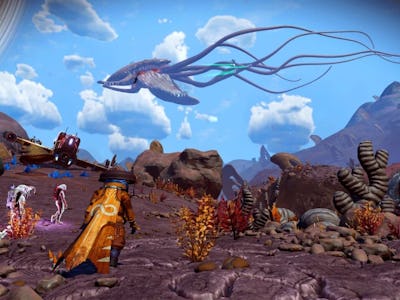 Hello Games
In 2016, nothing was hotter than space exploration game No Man's Sky — at least, before it actually came out.
Leading up to its launch, No Man's Sky was touted as an incredibly ambitious game with a plethora of features that made it seem too good to be true. And it was. The game that launched was not exactly what was promised, leading to extreme disappointment from players, with some sending death threats to developer Hello Games.
However, in the seven years since, No Man's Sky has not only made good on its promises, but exceeded the original vision in a way that once seemed impossible.
It's perhaps the greatest comeback in gaming history. But it took a while to get there.
By and large, the fundamental mechanics of No Man's Sky, which involve exploring planets to harvest resources, were there at launch. But the game was missing an abundance of features promised by Hello Games. Of the many promised features — such as the ability to encounter other real players while exploring, implementation of factions, and even planets with distinct resources depending on their distance from the sun — many of them weren't available in the game when it came out.
Hello Games was initially cagey about making comments following No Man's Sky's mixed reception in August 2016. In November of that year, the developer finally addressed the criticisms and promised to make the game better. After that, Hello Games seemingly disappeared off the face of the Earth, quietly working on No Man's Sky in the background while releasing update after update — all for free.
First came the base building, then an overhauled story mode, and finally, a comprehensive multiplayer system. Slowly, No Man's Sky became something special, even after its rocky launch. In 2018, the NEXT update came out, which is right when Hello Games truly hit its stride. This update included a third-person mode, enhanced base building, and deeper customization, making the game even more enjoyable.
Since then, No Man's Sky has grown into something ... otherworldly. It eventually was updated with full VR support, more diverse biomes, controllable mechs (seriously!), and even haunted derelict freighters (making it feel like Dead Space). Players are able to create entire cities thanks to the robust base-building system that practically has no limits. It's truly impressive what Hello Games was able to do with this game.
The No Man's Sky players have access to now is almost unrecognizable compared to the launch version. Hello Games has packed so many substantial updates into the game that it feels like what you'd expect to see after two or three entries in a franchise — a game with several sequels' worth of content.
Today, No Man's Sky's long-term development is regarded as one of the greatest comebacks of all time. It's a display of exactly how a developer should handle a rocky release and a lesson about making promises. Too often, games suffer from rough launches and never quite turn things around.
Sure, bugs and technical issues are frequently squashed, but by the time these games are finally "good," the player base has often moved on. Just look at Anthem or Marvel's Avengers. Sure, those games improved significantly over their life cycles, but very few players cared, resulting in their developers moving on to other projects.
No Man's Sky still boasts a large, active community. Not only that, but Hello Games still has even more updates in the works, and will continue to support the game for the foreseeable future. There isn't anything quite like No Man's Sky.
No Man's Sky is available now on PS4, PS5, Xbox One, Xbox Series X|S, PC, and Nintendo Switch .