'Atlas Rises' Update to 'No Man's Sky' is Here, And Fans Love It
The version 1.3 update makes a staggering number of changes.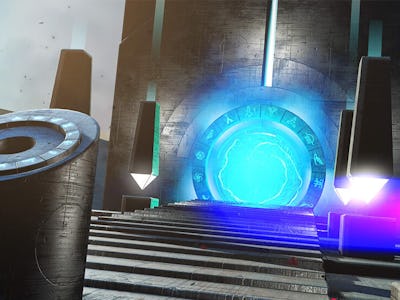 Hello Games
A long-awaited update to No Man's Sky has arrived, and it delivers in a big way. On Friday, developer Hello Games took the wraps off the 1.3 version update, named Atlas Rises. Alongside a number of new features, the update also introduces some features fans have been waiting for since before the launch, like a limited multiplayer mode that allows players to explore the galaxy together. Fan reaction has been ecstatic.
"I'm actually excited about No Man's Sky again," said Reddit user MrBrightSide1009. "We can all say what we want about the game's launch, but Hello Games have definitely worked their asses off to make it up to people, and make the game what it should have been at launch."
No Man's Sky promised the freedom to explore quintillions of planets, seamlessly switching from trawling through alien jungles to fighting other ships in space. When it launched last August, though, reviews found the game rather lackluster, giving it an average score of 71 out of 100 on Metacritic for the PS4 version.
When it appeared that players couldn't find each other like the developers promised before launch, lead designer Sean Murray said on Twitter that it was "a testament to how amazing our network coders are that Discoveries are still working at all," a widely-criticized response. Murray withdrew from Twitter, and angry players demanded refunds, but not everyone gave up hope.
"We're going to look back on vanilla No Man's Sky the same way we do vanilla Destiny; with amused acceptance, and knowledge that things are a lot better now," Polygon writer Ben Kuchera said last August, suggesting that in a year's time, updates could help fix these issues. One year later, and three major patches down, it seems Hello Games may have turned things around.
The Atlas Rises update contains a number of radical changes, including:
A new story featuring 30 hours of extra content, double the interactions and a new alien race.
An overhauled galaxy with wealth, economy and conflict levels, plus an overhauled galactic map to explore it with.
Overhauled space combat, with better A.I., better maneuverability and a new heads-up display:
A graphical overhaul that also brings new and exotic plant types.
Gigantic crashed freighters to explore.
A new "mission agent" in space stations that will offer constantly generated tasks.
An overhauled interstellar trading system with new economic variables and tools to extract valuable elememnts.
A new analysis visor that shows more information about each discovery.
A new user interface that includes a mission log, clearer discovery page, in-game guide and journey milestones.
A new terrain editing tool that allows you to reshape the planet with giant new rock formations:
Ancient portals (that bear more than a passing resemblance to the ones in Stargate) that teleport players across the galaxy when activated.
Atmospheric low-flight mode that lets you skim the surface of the planet in your spaceship.
Joint exploration with up to 16 players, the first step toward a broader co-op mode.
New Class S ships available for purchase.
More music from 65daysofstatic.
A number of bug fixes and general gameplay tweaks that make routine tasks simpler.
Watch the trailer here: