Nintendo Switch 2 Leak Offers a Huge Clue About Metroid Prime 4
Where in the world is Samus?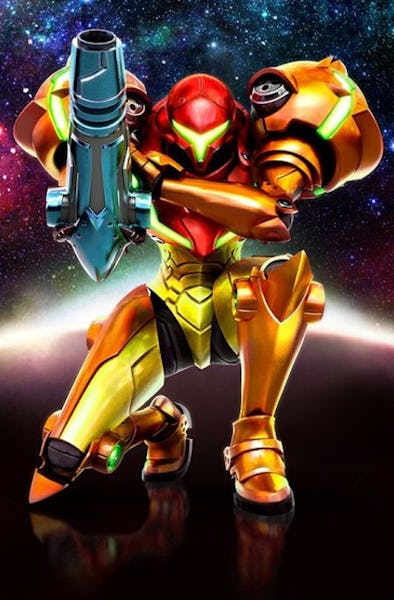 Nintendo
It's been just over six years since the launch of the Switch, which means it's about time for Nintendo to talk about a new system. New reports claim the company showed the Switch successor to a select few behind closed doors at Gamescom back in August, which could suggest an impending release next year, lining up with previous rumors. That also provides a vital hint about when we can expect to hear more about of Nintendo's most highly-anticipated games, Metroid Prime 4.
As reported by both Eurogamer and VGC, Nintendo apparently hosted a demo for its new console, showing off an improved version of Breath of the Wild as well as The Matrix Awakens Unreal Engine 5 demo (originally used to show off the power of PS5 and Xbox Series X). Although the reports don't have any details on specs, outside of The Matrix Returns having DLSS and ray tracing enabled, which would mean Nintendo's system is comparable to something like a PS4 Pro, if not the PS5 and Xbox Series X.
A previous report from VGC said Nintendo planned to launch the new system in the second half of 2024, so it makes sense the company would be starting to lay the foundations. If a new system is that imminent, it seems likely that we won't be seeing Metroid Prime 4 on the Switch —or at the very least it'd be a cross-platform release.
Metroid Prime 4 was first revealed just two months after the release of the Switch, in June 2017. Development moved from Bandai Namco to Retro Studios (the developer behind the other Prime games), and the project was completely restarted back in 2019. Outside of announcing that change, it's been radio silence ever since.
Nintendo's next console will need some kind of flagship game at launch. It's possible Nintendo is keeping quiet about Metroid Prime 4 in an effort to prep it for release on the new system, and the big re-reveal will be whenever that's announced.
For comparison, the Nintendo Switch reveal presentation in 2017 also announced Breath of the Wild as a launch title, as well as a host of brand new titles including Fire Emblem Warriors, ARMS, Splatoon 2, Xenoblade Chronicles 2, and Super Mario Odyssey.
While Metroid Prime 4 might still be a ways off, it seems likely we could see remasters of Metroid Prime 2 and 3 to fill the gaps. A remaster of the first Metroid Prime released earlier this year to rave reviews, and it certainly seems like Nintendo wants players to be familar with the franchise right now.
Remasters of the second and third games could be some of the last big titles to hit the Nintendo Switch, before the next console arrives with Metroid Prime 4. All the pieces seem to be lining up — now it's just a matter of waiting until Nintendo is good and ready to talk about Samus' return.