Minecraft Legends Is Nearly Here — Here's Exactly When You Can Play
Every launch detail you need to know.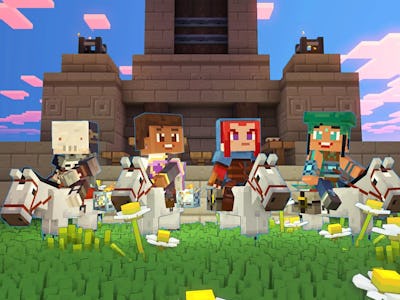 Microsoft
Action-strategy game Minecraft Legends is nearly here. This all-new entry in the Minecraft series serves as a major departure, focusing on real-time strategy elements instead of a robust creative suite. Still, it retains the heart of Minecraft's blocky worlds, with plenty of callbacks and mechanics from the original. But when does Minecraft Legends come out and what should you know about its launch? Here's what you need to know about Minecraft Legends including its release time, pre-order details, Xbox Game Pass status, and download size.
When Is the Minecraft Legends Release Time?
Minecraft Legends launches on Tuesday, April 18, 2023.
Microsoft recently confirmed that it will be available to download at the following times in various regions:
Seattle: 9 a.m. Pacific
New York: 12 p.m. Eastern
São Paulo: 1 p.m. Brasilia Standard
London: 5 p.m. British Summer
Stockholm: 6 p.m. Central European
New Delhi: 9:30 p.m. India Standard
Tokyo: 1 a.m. Japan Standard (April 19)
Sydney: 2 a.m. Australian Eastern Standard
The publisher also confirmed that the aforementioned times are estimates.
Is Minecraft Legends on Xbox Game Pass?
Yes! Since Minecraft Legends is a first-party Microsoft game, it will launch day and date on Xbox Game Pass and Game Pass for PC. Though, the game is also available for purchase on Xbox platforms, as well as PlayStation, PC, and Nintendo Switch.
Minecraft Legends Download Size
Unlike many recent AAA games, Minecraft Legends won't eat up too much hard drive space. On Xbox Series X|S, it's around 7GB; on Nintendo Switch, it's 6.6GB; and on Steam, it requires around 24GB. The storage size for the PlayStation version hasn't been revealed just yet, but it'll likely be around the same as its Xbox counterpart — somewhere around 7GB.
Minecraft Legends Pre-Order Details
There are currently two versions of Minecraft Legends you can pre-order.
Minecraft Legends — Standard Edition: $40
Base game (included with Game Pass)
Minecraft Legends — Deluxe Edition: $50
Base game
Deluxe Skin Pack DLC
Minecraft Legends launches for PS4, PS5, Xbox One, Xbox Series X|S, PC, and Nintendo Switch on April 18, 2023.