Microsoft's Activision Blizzard Acquisition Reveals the Worst Thing About Gaming Culture
Microsoft capped off its acquisition of Activision Blizzard with a bizarre trailer, but the deal isn't one worth admiring.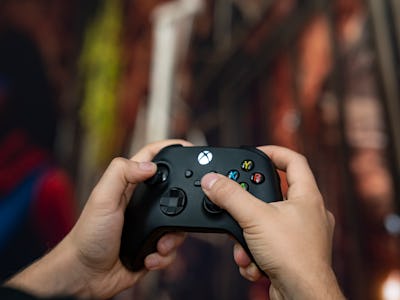 Picture Alliance/Getty Images
If you play enough video games, you might find yourself battling against a new all-consuming empire every week. But in the real world, it seems gamers are happier to cheer those empires on.
For nearly two years, Microsoft has been working to finalize its acquisition of Activision Blizzard in the face of challenges from the Federal Trade Commission and the U.K.'s Competition and Markets Authority. Through lawsuits and concessions to the agencies, Microsoft finally won its case on October 13 and proceeded to celebrate in the most baffling way imaginable — with a strangely saccharine trailer welcoming hordes of characters owned by Activision Blizzard to their new "home."
It's really a sight to behold, from the sappy rendition of "Oh, What a Beautiful Mornin'" from the musical Oklahoma! to the unnerving way it repurposes clips of Warcraft's orcs, Call of Duty's soldiers, and Starcraft's space marines in a twisted celebration of their new corporate owners. The idea of a corporation like Microsoft releasing such a faux-emotional trailer to celebrate its newest conquest is off-putting enough on its own, and it's only made worse by legions of capital-G Gamers celebrating in the replies.
I'll never understand the desire of some people to remain perpetually in a console battle mentality, like kids on the playground forever arguing whether Batman could beat up Superman or vice versa, but the arguments over who has the better exclusives are downright benign compared to the apparent glee on display over corporate consolidation.
For Game Pass subscribers, the hope of more Activision Blizzard titles may sound enticing, though recent hits like Diablo IV won't head to the platform until 2024 at the earliest. Otherwise, it's hard to see the upside for anyone who isn't financially benefiting from the deal.
Even in its own corporate double-speak, Microsoft can't make much of a case for how this will actually benefit players. In a statement from Microsoft Gaming CEO Phil Spencer, there's a promise not to start making Activision Blizzard franchises Xbox exclusives, some platitudes about Xbox's commitment to inclusion, and little else that rises above the level of PR jargon.
While it's not part of Xbox's post-battle celebration, there are a few fairly undeniable upsides to the acquisition. For one, Activision Blizzard CEO Bobby Kotick is out of a job. Of course, for his years overseeing a company culture accused of being so rampant with misogyny and harassment that it allegedly contributed to one woman's suicide according to an ongoing lawsuit, Kotick will walk away with $400 million from the stock he owned. But there are few ways to get rid of a CEO without it somehow making them richer.
[Update Oct. 18: In an email to Inverse, Activision Blizzard points out that since the allegations were made, the company has launched workplace inclusion efforts and a new zero tolerance policy on harassment.]
For Activision Blizzard employees, another potential bright spot shines even more. In the wake of the acquisition, Microsoft reiterated the labor neutrality agreement it made with the Communication Workers of America in 2022. According to this agreement, Microsoft won't interfere with its employees' right to unionize, which could be a path to workers forming the largest union in the games industry by a wide margin — if the company keeps its word.
But along with these benefits, what the acquisition creates most is doubt. Could Microsoft pour resources into Activision Blizzard to improve its games? Sure. Could it help clean up its well-publicized culture of harassment and abuse? It could try. But for every hypothetical gain for workers and audiences, there's an equally likely downside.
Layoffs have plagued the games industry for years, costing more than 6,200 people their jobs in 2023 alone. Acquisitions don't have to lead to layoffs, but in practice, one seems to follow the other. Embracer Group has been gobbling up studio after studio recently, and at least 12 of the companies it now owns have reported layoffs this year. Microsoft itself laid off 10,000 people in January, which included developers at Bethesda, 343 Industries, and The Coalition. It's not that an independent Activision Blizzard guaranteed job safety — it cut at least 60 employees this year — but Microsoft's own fortunes could now determine the fate of the developers being brought under its umbrella.
More nebulous, but no less real, is the effect of corporate consolidation on creativity in game development. Simply put, a less diverse games industry is a more boring one, as fewer people have the power to approve and fund games that aren't guaranteed commercial hits. The obsession with the bottom line led Sony to close Japan Studio in 2021, despite its track record of critical, though not necessarily commercial, successes like Ico. It's behind Square Enix's pivot away from small, experimental titles and toward NFT games, and an industry-wide frenzy for monetized live service games.
All this doom and gloom is just as speculative as the hope for better working conditions and more support at Activision Blizzard. Only time will tell whether this particular deal does more harm than good. But however the details shake out, Microsoft's acquisition is part of a pattern that puts more control in fewer hands, making the games industry a little smaller, a little more risk-averse, and a little less stable for developers. Even if we get a few more Game Pass games in return, I don't think that's worth celebrating.