Lies of P Sequel and DLC Confirmed With Revealing New Concept Art
Second star to the right and straight on till morning.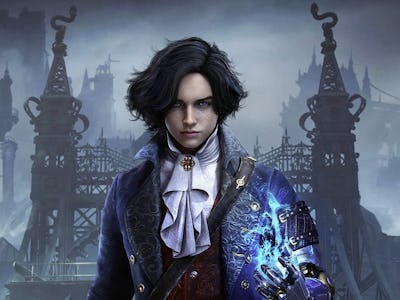 Neowiz Games
Studios have tried to capture the magic of FromSoftware's Soulslike games almost as long as the studio has been making them. We've seen Sci-Fi Soulslikes, 2D Soulslikes, and even Soulslikes with lightsabers! But 2023's Lies of P — a gritty retelling of Pinocchio — still takes the cake in my opinion. The absurd premise mixes fairytales with Bloodborne's gothic horror and somehow manages to pull it off with flying colors. So, it comes as a welcome update that the game will receive a plethora of new content, including a sequel.
During a YouTube video letter from game director Ji Won Choi held on Halloween (spooky), Lies of P fans were treated to two major pieces of information regarding future content for Lies of P. "Our highest priority is developing the DLC and working on our sequel," said Choi, confirming that co-developers Neowiz Games and Round8 Studio are still committed to the world of Lies of P.
While the live letter didn't detail the timeline of release for the DLC or any specific plot elements that it will touch on, Choi did show off two pieces of concept art for the upcoming expansion. The first depicts some sort of lab that would fit in well with most of the gritty set-dressing of the base game's central city of Krat.
The second piece of concept art is more interesting as it shows what appears to be a sailing ship on the water with Pinocchio aboard. Without official details, we can only speculate what this may mean, but there's a chance this has something to do with Peter Pan. While it may seem even wilder to loop in a journey to Neverland for a game about Pinocchio, it isn't out of the realm of possibility.
The confirmation of a sequel, which also didn't include many details on the timeline or premise, will bring to mind Lies of P's post-credits scene that teases where the next main installment of the game will go. The scene in question shows a mysterious figure discussing with an unseen comrade the events of the base game and the potential that Pinocchio holds one of several keys to immortality.
The mysterious figure then reveals there are other keys out there and that he is about to embark on a journey to find the next key, a woman named Dorothy. The camera shows a copy of The Wonderful Wizard of Oz and then cuts to a woman in red ruby slippers walking across the rooftops of Krat.
This suggests Pinocchio is only the beginning for the Lies of P developers and that, as a franchise, this is some sort of expanded universe that will pull in popular characters available in the public domain in future content. Dorothy is one such character, but another is J.M. Barrie's Peter Pan. Which is a roundabout way of justifying the theory that the DLC will somehow connect to Neverland.
We will have to wait for more official details on what to expect from Lies of P's DLC and sequel, but it is already clear that Pinocchio is only the beginning of the story.
Lies of P is available on PlayStation, Xbox, Game Pass, and PC.