Halo Infinite devs take a bold stance against dehumanizing Texas legislation
Certain Affinity is one of few companies doing it right.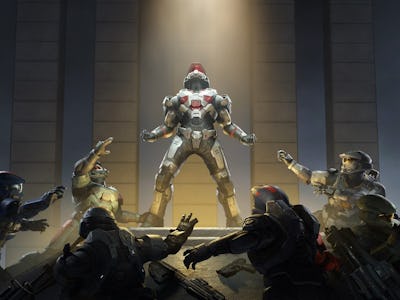 Halo Infinite co-developer Certain Affinity just pledged to support employees seeking to relocate from its Austin, Texas headquarters due to their human rights being threatened. Texas, of course, has been under fire in recent months for its numerous attacks on transgender residents and women. At a time when so many game studios stay quiet on political issues — and major companies like Sony lean towards censorship — it's a bold and important stance that hopefully establishes a major precedent.
What Happened? CEO Max Hoberman shared a statement on Twitter earlier in May that he previously emailed to employees:
"If the state or province that you live in restricts access to what a majority of medical experts consider essential care," he wrote, "and this makes remaining there untenable for you and your family, we will cover the pre-approved, documented, reasonable out-of-pocket costs of your relocation to another, safer state or province that we operate in."
Texas has been at the forefront of a recent wave of anti-trans and anti-abortion legislature that is sweeping through the country. Earlier this year Texas Governor Gregg Abbott sent a letter to the Department of Family and Protective Services instructing them to investigate transgender children in the state and prosecute their parents for child abuse. What choice do trans individuals and their families have other than to relocate?
Why It's Risky for Certain Affinity — Hoberman notes that pledging to support employees could lead to future legal trouble for the company. "State governments may at some point decide that, by supporting vulnerable employees in the time of need, we fall on the wrong side of the law," he wrote. There is already precedent for this as the state ban on abortions after six weeks includes a measure through which residents can sue anyone helping someone get an abortion after the six-week cutoff. It comes with a fee of at least $10,000.
So, Hoberman and Certain Affinity are putting themselves at risk, legally speaking, to take a political stand and support their employees and speak out against human rights violations in Texas. The company has yet to formulate specific policies on the matter and Hoberman says it is an issue they "must carefully navigate."
While Certain Affinity has its headquarters in Austin, it also has offices in Toronto, Ontario in addition to permitting its employees to work remotely.
The Bigger Picture — In the wake of the leaked Supreme Court draft opinion that would overturn Roe v. Wade, the games industry has been struggling with how and if they should release statements on the matter. Destiny 2 developer Bungie was the first studio to openly voice its support of abortion rights tweeting, "Standing up for reproductive choice and liberty is not a difficult decision to make." Even when disgruntled fans on Twitter decried the company's political statement, the company doubled down.
Bungie is owned by Sony, which has reportedly forbidden first-party studios from making any statements on the topic of reproductive rights. Insomniac Games donated $50,000 to the Women's Reproductive Rights Assistance Project, which will be matched by Sony – yet neither will formally acknowledge this. In response to Sony's policy of silence, Bungie Senior Community Manager Dylan Gafner said that Sony will never be able to "muzzle" Bungie.
What's Next — Hoberman points out that "naked politicization of private health matters is hurting our business in tangible ways, including our ability to recruit staff." This policy is about more than trans rights or abortion. It's about human liberty at large and how its restriction is not only wrong, but it can stand to negatively impact the economy.
As the push for more legislation that infringes on the human rights of women and transgender people continues, all industries need to stand up and make more statements like those from Certain Affinity and Bungie in defense of their employees. Game companies can and should do more, and they should look to this precedent as a brave example to follow.