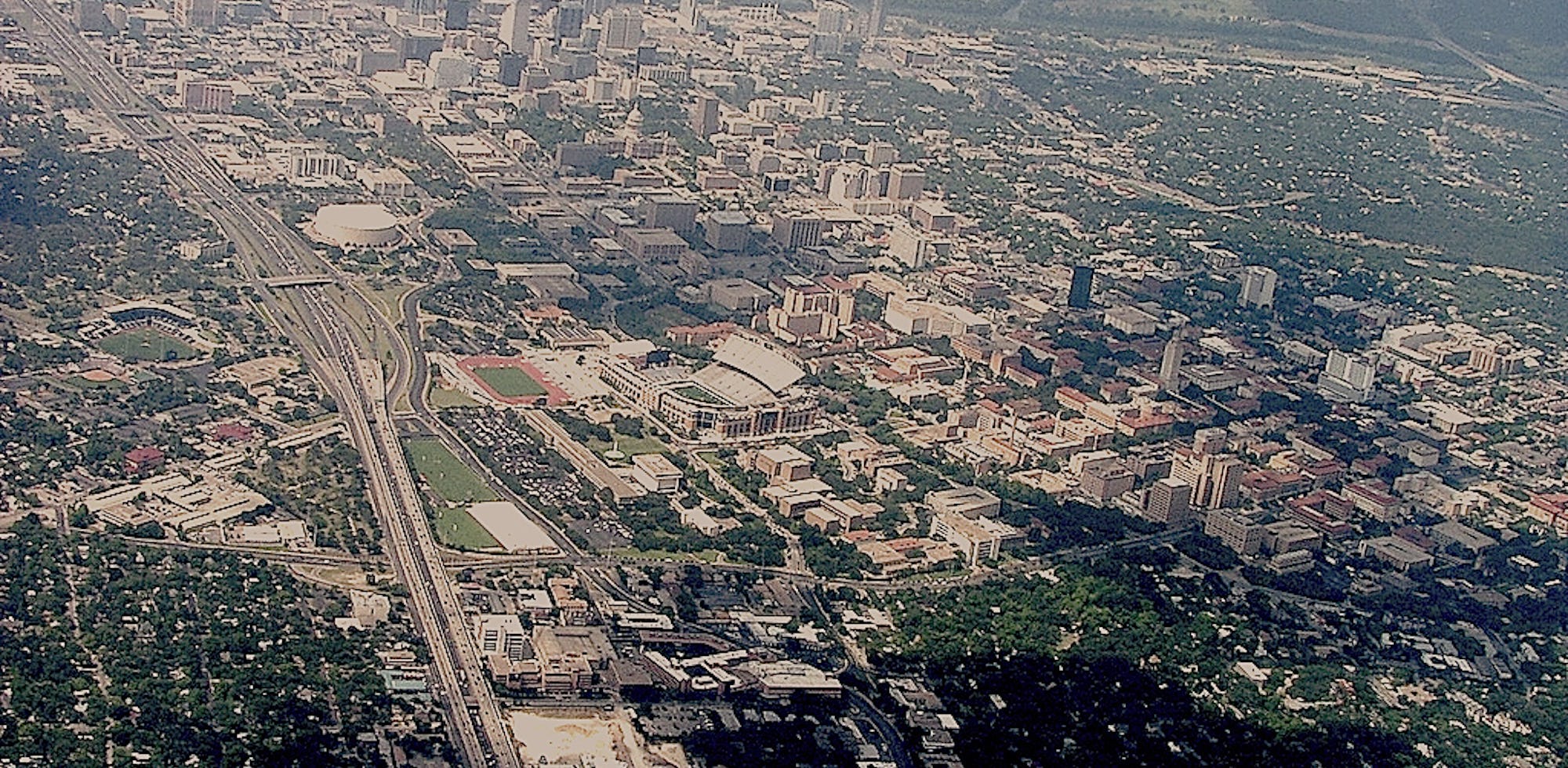 Innovation
The Future of Austin: Already Weird, Getting Weirder
The bastion of Texas progressivism is playing catch up to the rest of the world.
Flickr user Knowsphotos
Austin, Texas is renowned for defying Texas stereotypes, but its weirdness isn't just cultural. For a major city, it's unusually close to other cities and unusually popular with young people. It is a magnet for people entirely disinterested in what surrounds it. And that leads to some singular phenomena.
The city's proud residents have stated their desire to stay weird on countless bumper stickers, but change will come. Calvin Chen of Bercy Chen Studio in Austin spends a lot of his time considering what that will look like. Inverse spoke to him about the future of a college town that isn't really a college town at all.
What is the current status of urban infrastructure and design in Austin? How effective are the current systems in meeting the needs of the people?
Austin is a reluctant big city that seems to be playing perpetual catch up to explosive population growth. Historically, population has doubled every 25 years throughout the 20th century. The highway system is currently overloaded and the proposed $4.3 billion expansion of IH-35 through downtown will not be completed until 2025 — if funding can be found. The rejection by voters of a light rail expansion connecting downtown to the airport does not help congestion either.
Austin has a progressive reputation in general, but, ironically, when it comes to mass transit systems, Dallas has had more success with DART and numerous transit oriented developments densifying urban nodes. Central Austin real estate is becoming very expensive, so it is very much drive "till you qualify" for young people, which puts more people on the highway. There is the constant question of whether there is a housing bubble with downtown residential towers, even though less than one percent of the Austin Metro population live downtown.
According to the city, the 2010 Census showed 7,413 people living downtown. Since then, 1,059 units have been completed, bringing the current estimated downtown residential population to over 10,000. In addition, the 1,330 units under construction should add nearly 2,000 new residents, and another 2,700 more units are being planned.
Does that mean the city needs to find other areas that can be population dense?
The Domain is a very interesting development, which has the potential to become a kind of second downtown. Currently it offers a sanitized and safe version of an urban experience. Over time it could evolve into something more authentic.
I think being strategic in densifying selected urban nodes and creating better connections between them could help curb endless sprawl. For example the revitalization of airport boulevard and the Austin Community College campus's redevelopment of a dead mall, or a new urbanist project like the old Mueller Airport redevelopment.
Is the city, which really is just the people in it, actively trying to evolve? To change the way it's designed?
In terms of design, Austin is a hot bed of thriving boutique design firms doing interesting small to medium scale projects throughout the city. However, large scale projects are still being done mostly by out of town corporate firms. Depending on how you look at it, Austin is either far ahead or behind the curve in design thinking. Somehow, Austin has a kind of quiet confident grassroots self-assurance or self-apathy that it doesn't feel the need to build great cultural monument like every other city in the world. Austin has been trying for 40 years to build a museum downtown, with three failed attempts: Robert Venturi in the '80s, Richard Gluckman in the '90s, Cesar Pellin in the 2000s.
Austin is also a very young city, you feel the sense of possibility and there is a kind of optimism in the air and enthusiasm from people moving here from all over.
What are the changing conditions that will affect the urban landscape of Austin in the next 25 to 50 years?
Immediately after record rainfall this spring, we are back in drought conditions again. I would say there is definitely a higher level of awareness and desire to create sustainable architecture from our clients here. We try to implement and experiment a wide range of strategies such as using reclaimed materials, using solar panels, rain water harvesting, green roof, reduced building foot print and increased pervious cover to combat a variety of environmental concerns like urban heat island effect, high embodied energy in building material, carbon foot print concerns, dealing with waste, etc. We try to start small and scale up in our projects. It is exciting to be in city where you see many like minded people trying to tackle this big problem. I'm hopeful long term. I think people are surprised to learn that Texas is actually one of the top three or four wind energy generators in the world if it were a country, and Austin Energy is one of the most cost effective in producing solar powered energy.
We don't lack the intellectual horsepower or tools to address these issues. What I find most difficult is we lack the political will at a collective level or individual level to take this on, and the current development model is such that there is enormous inertia to overcome the old way of doing things from a financial, regulatory, and insurance stand point. It's mostly invisible things that post the biggest hurdle to positive change.
What kinds of solutions should the city pursue?
Supposedly we live in a democratic market economy, so we are not in China, a country that practices a kind of green fascism, where in certain cities, if you want to have a hot shower, the only way to get it is through a solar water heater. The Chinese-government-dictated sustainable policy helps establish private sector manufacturing. It makes total sense in Texas, but in reality it is not as ubiquitous for a variety of reasons — mostly economic. In Austin, policy uncertainty and fluctuating oil prices have made it tough for renewable energy subcontractors trying to do the right thing, only to struggle when the city changes the rebate program that encourages the use of renewable energy. The reality is we live in a culture with the average American moving every four years or less, so understandably it is difficult for many people to commit to investing in green building on the long-term to recover the high initial cost.
I don't think there is a lack of imagination or solution. I think there just are not enough people putting money where their mouth is or wielding their political capital. The building industry itself has a very entrenched way of doing things, coupled with the financing component, the insurance industry, and many other players in the process that are extremely risk-averse. It is going to take an enormous effort to reform the fundamental ways real estate deals are being put together to allow more innovative, sustainable projects to happen.
So, yeah, let's talk about money.
In certain parts of the world, the market can support $5,000 to $10,000 square foot sale price for residential architecture, so you could have high-tech green solutions and features to the design. In Austin, the high-end in West Lake and downtown is around $1000 to $1400 per square foot —considered high in Texas, but not quite enough to really push the envelope with sustainability. Our Edgeland house with a green roof in an industrial part of town almost didn't happen because the appraiser couldn't find any comps. Consequently, the bank had a hard time underwriting a green project they have never seen before, nor knew how to value. I think collectively there needs to be a desire to see the built environment move in the right direction every step of the way for it to happen.
On the urban scale, the wealthy western area of Austin will always be suburban, so I think the solution will be densifying corridors and transportation nodes in Austin in the rest of the city. I'm not a political or public transit expert, so I really don't know how particular components, such as a light rail or subway system, will play out. So far it has been a struggle.
What are some specific infrastructure or architecture projects or concepts that Bercy Chen itself has developed that are in line with these kinds of solutions? How do they work?
Re:Vision Dallas was a competition proposal we made several years ago to help revitalize the empty lot behind Dallas City Hall. In essence, we envisioned a modern version of the Alhambra, where the building is designed for experiencing the poetic pleasure of the movement of water throughout the complex as at the Alhambra, instead of treating water as simply an MEP and drainage problem, which is the standard view today.
We looked at very low tech ideas, like planting fragrant flowers and fruit trees along water channel to create perfumed edible roof gardens, and using simple forms to draw breeze through the space. We were also interested in experimenting with more high-tech components as part of an overall system. Tesla battery was not available at the time, but that would be an interesting addition. We also looked at PV panels with tiny spherical dots which allow views through, and potentially transforming the glass building skin to generate power.
Another is our proposal for the Benetton Tehran building. In our proposal we ask the question: can a building, instead of consuming energy and producing pollution, do the reverse like a tree with its leaves and give fresh air back? A central glass shaft through the building is coated with smog-eating titanium dioxide, which helps produce clean air back to the city.
These ideas are conceptual in nature and often it takes us a while to implement them in the future, but it is important for us to try to ask the right questions and aim for the right direction right now.
Are there lessons from other countries or cities in the US that can be applied to the urban development of Austin?
Masdar City by Norman Foster would be an interesting example to explore. Some of the best architects working today, stood on the shoulder of giants like the American inventor Bucky Fuller. Foster took his idea and ran with it. It is ironic that some of these visionary ideas originated from America, yet today it is in the Middle East, or Central and East Asia where the visions are being implemented.
In some ways the US is so far ahead of all the other countries, having lead with the excitement of the Space Race in the 1950s. Today, while people in other parts of the world are going into space for the first time and translate their enthusiasm for the future into their built environment, hills around Austin are being blanketed with Tuscan villas.
The same thing could be said about high speed rails. I'm optimistic that in the future, the Texas triangle cities (Dallas-Fort Worth, Houston, and Austin-San Antonio) could be linked with vibrant sustainable development around the nodes.
There are some positive signs but it will be a slow and long process that requires optimism and steadfast action today.