Halo Infinite's Juneteenth "Bonobo" skin is a shocking failure by Microsoft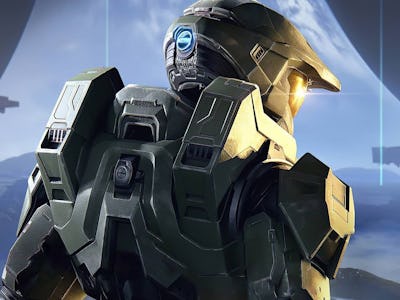 Halo Infinite regularly features new cosmetics and emblems that coincide with holidays or events. The latest cosmetic to hit the game celebrates Juneteenth, a federal holiday that marks the end of slavery in the United States and commemorates the nation's ongoing fight for racial equality. But after launching a Juneteenth cosmetic for Halo Infinite, Microsoft-owned developer 343 Industries quickly came under fire for being egregiously offensive.
What happened — The Juneteenth nameplate palette, as seen in the image above, sports the red, black, and green colors of the Pan-African flag, which represent the blood, soil, and prosperity of Africa and its people. The real problem is with the pallete's name — "Bonobo." A Bonobo is a type of great ape, and considering the long, disgraceful history of ape metaphors being used as dehumanizing slurs against Black people, it's difficult to interpret the use of this term as anything other than racist.
Outcry followed swiftly from Halo Infinite players and the gaming community as a whole — there are literally hundreds of tweets referencing the incident, even from fansites like HaloHub. Shortly after the nameplate was discovered, 343 changed the name to "Freedom," then changed it again to the current name of "Juneteenth."
How it happened — Inverse reached out to 343 and Microsoft for comment on how the term made it into the live version of the game, and was referred to studio head Bonnie Ross's tweet on the matter, which states:
"We were made aware of a palette option for our Juneteenth emblem that contained a term that was offensive and hurtful. The team immediately addressed this issue via an update. We are a studio and franchise that is committed to inclusivity where everyone is welcome and supported to be their true self. On behalf of 343, I apologize for making a celebrated moment a hurtful moment."
343 Industries hasn't offered any official explanation for the term's appearance in the game, outside of community manager John Junyszek saying on Twitter, "We strive to create diverse and inclusive gaming communities. While the original name refers to an internal toolset, it was not intended to be applied to this content and we recognize the harm it may have caused."
To further clarify Junysek's reference to an internal development toolset, Halo streamer @MintBlitz posted a screenshot from a past ViDoc — a shorthand for "video documentary" used by studios like 343 as well as former Halo developer Bungie — that appears to feature a program named Bonobo.
What's next — Even if the name was unintentional or a reference to in-house software, it's baffling that something like this would get by 343's development and quality assurance teams. At this point, the studio needs to take further action to ensure things like this don't happen in the future. Simply waiting and hoping the problem will go away isn't enough.