GTA 6 Trailer Leak Hints the Reveal Is Way Closer Than You Think
The most wonderful time of the year.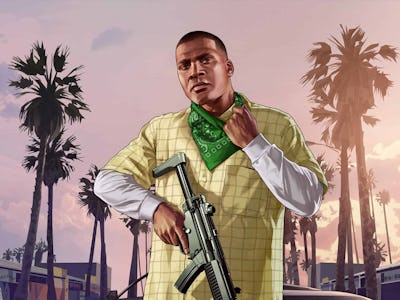 Rockstar Games
Grand Theft Auto 6 might be the most anticipated game of all time, and while it hasn't even officially been announced by Rockstar, that hasn't stopped the steady trickle of leaks, rumors, and speculation since the launch of GTAV a whole decade ago.
We still don't know when the game will be revealed, but an insider claims to know when Rockstar will finally unveil the game, and it's much sooner than we expected.
Twitter user Budzcario recently shared info about a couple of upcoming Rockstar projects including GTA 6. The user mentioned that Rockstar plans to launch GTA 6 in 2024 (which adds up with what others have said), and that the company will reveal the game at the end of 2023.
Budzcario suggested that Rockstar may even reveal the game during The Game Awards 2023, which would certainly be surprising, given the company's history with revealing games. However, Rockstar did have a major presence at The Game Awards 2018, as Red Dead Redemption 2 was nominated for several awards.
Revealing GTA 6 during The Game Awards may generate even more buzz for Rockstar, as the show typically gets millions of viewers. We saw just how effective this was for Final Fantasy VII Rebirth during Summer Game Fest (which is hosted by The Game Awards creator Geoff Keighley), which led to a tremendous amount of attention from fans. Considering just how long GTA 6 has been in the works, it will need to sell an absurd number of copies to recoup the development costs, so Rockstar may consider working with Keighley for the GTA 6 reveal.
If there's one company that might not need The Game Awards, it's Rockstar. GTA V shattered records by selling 180 million copies since 2013. Rockstar doesn't typically partner with other companies or events to make announcements.
Budzcario also claims Rockstar has been "feeding fake info to" its developers to suss out leakers from within the company. In September 2022, a massive GTA 6 leak showed off over 90 gameplay videos. It was one of the biggest video game leaks ever, but according to Budzcario, the footage was supposedly from 2020, meaning the game is a lot further along than it seemed at the time. This could mean the game is nearing the end of development and may be ready to be revealed soon.
The industry has changed a lot since Grand Theft Auto V was revealed in 2011. So, it's possible Rockstar may handle the announcement of GTA 6 differently. It would make sense to reveal the game late this year if it's due to launch in fall 2024. That's plenty of time to get the hype train up to full speed.
The next GTA game is currently in development.