The 7 Most Compelling GTA 6 Leaks, Rumors, and Theories
One of the most anticipated games ever.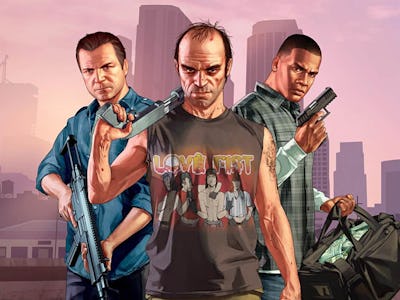 Rockstar Games
When it comes to eagerly anticipated video games, it doesn't get much bigger than Grand Theft Auto 6. After all, the previous entry, Grand Theft Auto V, is the second bestselling game of all time (behind Minecraft), selling over 175 million units since its launch in 2013. Since GTA 6 has been in the works for so long, it has accumulated its fair share of rumors, leaks, and theories — many of which are promising. Developer Rockstar Games has yet to officially unveil the upcoming game, so there's plenty of speculation to go around. These are 7 GTA 6 rumors, leaks, and theories we hope are true.
7. A female protagonist
Out of all the leaks and theories on this list, this one is most likely to be true. As reported by Bloomberg in 2022, GTA 6 will apparently feature two protagonists: A duo consisting of a Latino brother and sister. This would mark the first 3D entry in the series to feature a female protagonist. (You could play as a female in the original GTA and its sequel, GTA 2, but those fundamentally feel like entirely different games since they were in 2D.)
If GTA 6 does allow for two protagonists, it's unclear if it will work similarly to GTA V — wherein you could swap characters on the fly. It's also unknown if you'll be able to make different decisions with each character to impact how the story unfolds. Nonetheless, it's an exciting premise that could be exactly what the series needs to adapt.
6. Ever-Evolving Single-Player Mode
While GTA V is universally beloved, it's criticized for never receiving single-player DLC that would have expanded the map and story. Interestingly, DLC was actually planned for that game but ultimately scrapped (or repurposed) in favor of supporting the lucrative GTA Online mode.
But apparently, GTA 6 will bring back single-player DLC, at least according to insider Tez2. Specifically, Tez2 says GTA 6 will expand "over time," making note that the city will evolve. In fact, Tez2 says additional cities will be added later on, which would be a major change of pace for the series.
Assuming this leak is true, these new additions will come in the form of DLC, much like GTA IV's The Lost and Damned and The Ballad of Gay Tony expansions.
Considering Rockstar probably has no plans to abandon GTA Online, it's unknown how that mode will differentiate from the single-player component of GTA 6. It's possible they could be folded into one, though, this hasn't been confirmed.
5. The Big Leaks Haven't Slowed Production
Another noteworthy piece of information is that the massive September 2022 leak hasn't halted the game's production. Take-Two CEO Strauss Zelnick said to IGN, "as a business matter, we're not affected," in reference to the leaks, which consisted of around 90 videos of early GTA 6 footage — one of the most substantial leaks in gaming history.
It's unclear if the leaks have actually impacted the game's development, as Zelnick might have just made those comments to appease investors. Still, it's heartening to at least hear that development hasn't slowed, meaning we might actually get to play this thing within the next couple of years.
4. A New Game Engine
GTA is known for its impressive visuals, and for GTA 6 to set the world on fire, it needs to look as good or better than most modern games. To do so, Rockstar is apparently utilizing an enhanced version of its proprietary engine, RAGE (Rockstar Advanced Game Engine). This is according to Rockstar insider Chris Klippel, who has a positive track record.
Of course, having an up-to-date engine will allow the game to look as good as possible, which is expected for a current-generation game — especially one of the caliber of GTA. But equally as important, this could mean GTA 6 will feature a more varied mission design, which is one of the criticisms of recent Rockstar-developed games.
A new engine could allow the team to implement gameplay that feels fresh, hopefully evolving past the same mission design featured in GTA games for the past 20 years or so.
3. Past Characters Return
The power of nostalgia cannot be understated, as evidenced by the return of many beloved franchises across film, TV, and video games. Earlier GTA games from the PS2 era are some of the most beloved, featuring characters like Tommy Vercetti, Carl Johnson, and Niko Bellic. We'd love for GTA 6 to bring back some of these characters in some capacity, just as previous games in the series have done.
Arguably most famously, GTA III's protagonist Claude appeared in San Andreas, alongside the chaotic Catalina in a wild and surprising segment that felt memorable. Getting to interact with the series' most memorable characters in GTA 6 would help rope in older fans, while still giving the spotlight to a new cast. It would be especially impressive to see all previous protagonists in some capacity, making for a true Avengers: Endgame moment in GTA 6.
While there's no guarantee this will happen, it's a safe bet we'll at least see references to past entries in the series.
2. Back to Vice City?
You surely have your favorite GTA setting, but Vice City is one of the most popular, due in part to its vibrant colors and its depiction of Miami, Florida. So, it would make sense for Rockstar to revisit Vice City at least in some capacity with a future release. There are numerous ways to do it, such as via a flashback, standalone missions, an expansion, or even the game's main setting.
Either way, it's possible this locale will return, especially since a popular Vice City mod was randomly taken down in 2021, indicating that Rockstar has its own plans to do something with this setting. While this might not necessarily prove anything, it's safe to say we probably haven't seen the last of Vice City.
There have also been a handful of leaks that seemingly reveal the game's map as Vice City, but they don't seem to hold much weight.
1. Possible 2024 Release Window
Of course, there's one unanswered question on the minds of most GTA fans: What is the GTA 6 release date?
Rockstar has yet to even show the game in an official, public capacity, let alone reveal its release date. But earlier in 2023, Rockstar insider Tez2 apparently got their hands on GTA 6 files, which allude to the game being content complete.
This essentially means that all the features intended to be in the final release are present and that Rockstar could now be in the polishing stage. This part of game development, which involves bug squashing, often lasts around a year — possibly a little longer — meaning GTA 6 could be ready as soon as 2024. This is assuming the discovered files are real and accurate. Given what we know so far, it's not unreasonable to expect GTA 6 to launch in 2024, but at this point, its release date is unknown.