Everything You Need To Know About Goodbye Volcano High
The end of the world as we know it.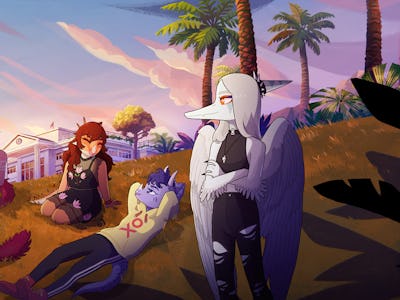 KO_OP
High school is a time of making friends, unrequited love, and hoping that the world doesn't get destroyed before you graduate. At least that is the case in the upcoming indie game Goodbye Volcano High. The narrative rhythm game about dinosaurs going through their senior years looks to be a surprisingly stylish and heartfelt game and it is coming sooner than you might think. Here is everything you need to know about Goodbye Volcano High.
When is Goodbye Volcano High's Release Date?
During the February 2023 Sony State of Play, Goodbye Volcano High announced that it would be released on June 15, 2023.
Originally slated for a 2021 release, Goodbye Volcano High has gone through multiple delays. The first pushed the release to 2022 due to development complications and a narrative reboot. The second pushed the game further into 2023 due to the "ambitious" scope of the game. But now after all those delays, we finally have a solid release date!
Is There a Goodbye Volcano High Trailer?
Yes! Way back in 2020 Goodbye Volcano High was announced with a reveal trailer that showed little beyond a few characters and an overall vibe for the project, you can check that out here:
After the multiple delays the game has gone through, not much has been shown off since this initial trailer. That changed during the February 2023 Sony State of Play, which dropped a meaty new look at the game's narrative and gameplay — check it out:
What Platforms Is Goodbye Volcano High Coming To?
Goodbye Volcano High will be a console exclusive to Sony hardware, coming to both PlayStation 4 and 5 at release. It will also release for PC via Steam.
There are currently no plans for Goodbye Volcano High to come to Xbox consoles.
What Is the Story of Goodbye Volcano High?
Goodbye Volcano High takes place in a world of anthropomorphic dinosaurs and centers around Fang and Trish's band VVORM DRAMA as well as their friend group dealing with it being senior year of high school. With the end of this era of their lives looming over their heads, the group considers if they have enough time to do the things they want and make the relationships they have been too afraid to pursue. All the while a literal comet may be coming to wipe out civilization, but surely dinosaurs shouldn't be too worried about something like that?
What Will Goodbye Volcano High Be Like?
Developer KO_OP describes Goodbye Volcano High as a "cinematic narrative game," which on its own doesn't reveal much about the gameplay. However, the most recent trailer gave us a good look at what we can actually expect it to feel like when playing Goodbye Volcano High.
As the story revolves heavily around the band VVORM Drama, one of the major pillars of gameplay will be rhythm sections. The State of Play trailer shows music sections with button prompts asking the player to hit button inputs and move the sticks in the proper direction to strum and sing to the beat.
The other major part of the narrative is coming of age at the end of high school. This will play out like a visual novel/dating sim by the looks of the latest trailer. KO_OP has said the game will have multiple dialogue choices and a branching narrative based on how you choose to interact with characters. Similar to the angsty music game We Are OFK, Goodbye Volcano High will also include a hefty helping of texting and social media in-world that players will use to progress relationships and narratives.
Goodbye Volcano High is coming to PS4, PS5, and PC on June 15, 2023.