How to Get All 6 Free Genshin Impact Characters — And Who to Build
At least you have these cheap few.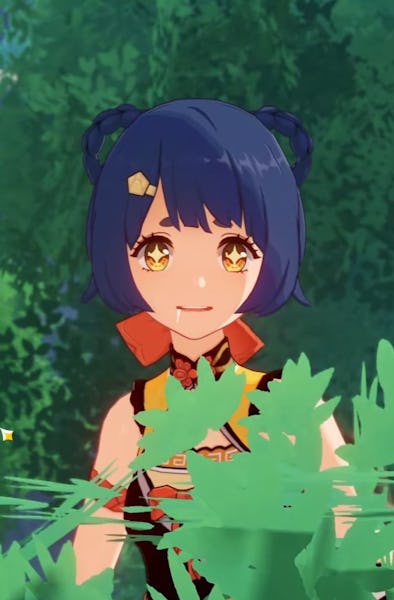 HoYoverse
Genshin Impact tempts players into spending with its alluring characters and the gacha mechanic where gaining new characters functions like a lottery. But even if you don't want to pay money for the Primogems needed to roll for new characters, the game gives you enough complimentary playable heroes to get by. In fact, it gives you enough to fill your four-person team within the first few hours of the game. HoYoverse even offers characters of almost every element so that you can complete puzzles or try different elemental reactions in your team comps.
Here are all 6 free characters in Genshin Impact, how to get them, and some thoughts on who's worth keeping around.
6. Amber
Prerequisite: N/A
How to Unlock: Complete the "Winds of the Past" Quest
Amber is one of the first characters that you unlock in the Genshin Impact story. She is also notoriously one of the worst characters in the game. Her kit clashes in enough ways that it's difficult to suggest building her over any other Pyro unit. That being said, her long-range Pyro application will help you complete many puzzles in Mondstadt and Liyue.
Alternative: Any Pyro character
5. Kaeya
Prerequisite: N/A
How to Unlock: Complete the "Crash Course" Quest
Like Amber, you can't complete the Genshin Impact prologue without recruiting Kaeya. Thankfully, he has some uses outsides of his utility in early quests.
Kaeya excels as a Cryo Sub DPS because of his Elemental Burst, which stays active even when he's off the field. His cooldown times for his Skill and Burst are also relatively quick. So he's useful for many teams that require Cryo reactions like Melt comps. He just doesn't get as much spotlight as characters like Rosaria because he doesn't have the same support capabilities or as wide of an area of effect as someone like Ganyu.
Alternative: Rosaria, Layla, Ganyu
4. Lisa
Prerequisite: N/A
How to Unlock: Complete the "Sparks Amongst the Pages" Quest
Lisa is another character that the player unlocks in the prologue. While her kit is serviceable, I don't recommend building her because of all the other better Electro 4-star characters that you will probably get just by pulling for other characters. She's outclassed by Fischl and Beidou alone because of her skills' charge times, aiming difficulties, and other inconveniences.
Alternative: Fischl, Beidou, Kuki Shinobu, Dori
3. Barbara
Prerequisite: Adventure Rank 18
How to Unlock: Complete the "A Long Shot" Quest
Barbara is one of the first characters you can unlock outside of the prologue. After you complete "A Long Shot," the last act of the prologue, the Events section should give you the option to unlock her.
Barbara's healing abilities make her an attractive pick early on in the game, enough that players argue that she's better than Kokomi in some instances. She can even effectively work in Taser and Bloom teams because of how consistently her Elemental Skill applies Hydro. However, she does have some downsides, like the fact that her Elemental Skill sometimes freezes teammates when they come in contact with Cryo attacks.
Alternative: Kokomi (kit similarities); Xingqiu (Hydro application); typically replaced with another healer in competitive comps like Bennett, Jean, or Diona
2. Xiangling
Prerequisite: Adventure Rank 20
How to Unlock: Complete Spiral Abyss Floor 3 Chamber 3
Players unlock the Spiral Abyss at Adventure Rank 20, so that's the earliest you can recruit Xiangling. She isn't waiting in the Abyss for you, but she will be available to recruit in a promo after you complete Floor 3 Chamber 3.
The little chef Xiangling is the gold star of free Genshin Impact characters. No one can top how efficiently she can apply Pyro to enemies with her Elemental Burst. Her Pyronado applies Pyro with every hit and allows players to switch characters when it's still in effect. All the other Pyro characters either don't have as big an area of effect, don't apply as consistently, or don't have an off-field skill.
Alternatives: Don't bother. Xiangling is the best Pyro Sub DPS.
1. Collei
Prerequisite: Adventure Rank 20
How to Unlock: Complete Spiral Abyss Floor 4 Chamber 3
Collei is a reliable unit that should serve all your Dendro Sub DPS needs for many team compositions. Unlike Amber, whose kit mirrors hers, her skill and burst cause enough elemental reactions and have enough of a range that they should be serviceable.
There are only a few Dendro 4-stars you can rely on right now: Collei, Yaoyao, and the upcoming Kaveh. If you don't like Collei's playstyle or don't have the resources to raise her right away, you can also use Dendro Traveler as an appropriate substitute. Some players even use Dendro Traveler and Collei together to constantly generate Dendro.
Alternatives: Dendro Traveler, Yaoyao, Nahida
Bonus: Noelle
Noelle isn't exactly a free character, but she is a guaranteed one. You're guaranteed to get her from the Beginner's Wish banner, the first Standard Banner that any newcomer should pull from before moving on to Wanderlust Invocation.
Noelle's main draws are her defenses and healing. Many beginners who don't have a dedicated shielder will want to use her. She's no match for a shield god-like Zhongli, but she gets the job done. Her healing isn't super efficient because it only scales with the damage Noelle does on her own, which means she needs to take field time away from your DPS to heal her allies.
Which Free Characters Should I Build?
Short answer: Xiangling. Definitely not Amber. Everyone else? It depends.
Xiangling is the overall best free character to build from this entire list. The other characters can also work in certain team comps and circumstances. Barbara is worth building if you don't end up pulling another healer or need a Bloom team member. Kaeya is a respectable choice for anyone lacking Cryo units. Collei also works as an early Dendro unit for anyone who needs her to trigger elemental reactions. Noelle is an especially helpful shielder early in the game, too.
It also depends on which characters you end up getting with your first few pulls. Lisa isn't bad, but if you end up pulling a character like Fischl or Kuki Shinobu, it's hard to justify building her over them unless you like her design much better.
Is There Another Way to Get Characters For Free?
The Paimon Shop features a rotating selection of four-star characters that you can buy with Starglitter. That assumes you have enough Starglitter to even claim one of them, though. You can only get Starglitter from pulling on banners.
Are There Limited-Time Free Characters?
Yes, there are free limited-time characters every other update or so. Genshin Impact will occasionally have an event that offers a free character like the annual Lantern Rite Festival. Lantern Rite rewards its participants with a lineup of 4-star Liyue characters to choose from. Collei, who is now a permanently free character, also appeared as a free unit in an event when she debuted.
Can I Get a 5-Star Character for Free?
Fat chance! Genshin Impact players have been asking for a free 5-star as an anniversary reward for over two years now. These characters are some of HoYoverse's main moneymakers, so they probably won't fork them over for free anytime soon, especially for newbies who joined the game yesterday.