How to get Collei for free in Genshin Impact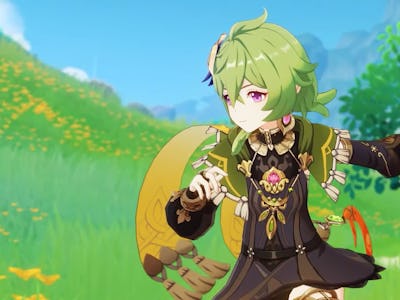 HoYoVerse
The first Dendro character in Genshin Impact is technically the Dendro Traveler. However, considering not everyone will have the gems to roll for Tighnari, Collei is a great substitute for enabling Dendro reactions. Players already knew that Collei would be a free character before the Genshin Impact 3.0 update from the Graven Innocence event, but that was only for a limited time. Thankfully, HoYoverse has incorporated a new permanent way to recruit the Dendro archer. Here's how you can get Collei for free in Genshin Impact.
How long do I have to get Collei for free?
Collei is a free character until HoYoverse says she isn't. There isn't a time limit for when to recruit her like there was for her debut with the Graven Innocence quest.
How can I get Collei for free?
Collei is a free unit from the Spiral Abyss. If you haven't jumped in, now's the time. You need to make it through at least Floor 4 Chamber 3 of the Spiral Abyss to recruit her.
How difficult is it to clear Floor 4 Chamber 3 of the Spiral Abyss?
It shouldn't be difficult if you're at a high enough level. Genshin Impact minmaxers talk about the Spiral Abyss like the ultimate test of true difficulty and viable team compositions, but not all the floors are grueling to get through. The first few floors should be easy for mid-leveled players with team members at least Level 50 and above because you can outlevel the enemies.
Here's an overview of Floor 4 of the Spiral Abyss:
Ley Line Disorder: Electro DMG deallt by all party members increased by 75%. Electro-Charged DMG increased by 150%, and it's AoE is increased by 100%.
Enemy Level: Level 50
Rewards: 1 Domain Reliquary - Tier II, 2 Domain Reliquary - Tier III
Note: You can also claim Star Bounty depending on how quickly you clear Floor 4. All 9 stars (3 for each floor) translates to 60,000 Mora and 300 Primogems.
Is there any other way to get Collei?
Not for free, no. The only other way to get Collei is to roll for her from banners like with every character in Genshin Impact. She's a part of the standard banner like Tighnari, which doesn't make chances of getting her that high unless she has boosted drop rates on a limited-time banner.
Genshin Impact is available for PC, PlayStation 4, PlayStation 5, iOS, and Android.
This article was originally published on