Everything we know about Genshin Impact version 2.8
Summer days, drifting away.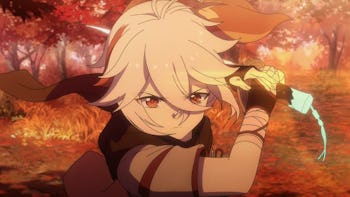 HoYoverse
Time is just an illusion — or it might just seem that way. HoYoverse dropped two Genshin Impact update dates after infamous Genshin Impact 2.7 delay. Now, Genshin Impact 2.7 has come and gone like a summer breeze. Most Genshin Impact 2.8 content has been confirmed and now Genshin Impact 3.0 leaks are the new talk of the town. However, before we get ahead of ourselves, HoYoverse has outlined six weeks of summer fun in the upcoming update. Here's everything to expect in Genshin Impact 2.8.
When is the Genshin Impact version 2.8 update?
Genshin Impact 2.8 will launch on July 13, 2022. With that, HoYoverse is back to its typical schedule of six weeks between updates. Maintenance should last approximately five hours from 6 p.m. ET to 11 p.m. Eastern. Expect 300 Primogems for maintenance compensation.
What are the Genshin Impact version 2.8 character banners?
The Genshin Impact 2.8 banners are as follows: Kaedehara Kazuha and Klee for the first half and Yoimiya for the second half. These are all reruns of long-awaited characters, so grab them while you can! They might not receive the Xiao treatment, who received two reruns within a few months of each other.
Anemo catalyst Shikanoin Heizou will debut as an accompanying four-star character on Kazuha and Klee's banners. HoYoverse hasn't revealed who will join him yet, though.
Are there new costumes for Diluc and Fischl in Genshin Impact version 2.8?
Yes! Diluc and Fischl costumes were confirmed during the Genshin Impact 2.8 livestream. HoYoverse even released a trailer showcasing both of them in action.
Diluc's skin, Red Dead of Knight, resembles his Darknight Hero costume from the manga with a high ponytail. However, it could be from a different time based on the description: "One of the outfits Diluc wears during covert actions, it resembles a flame dancing in the shadows." In the teaser, he says "This outfit reminds me of different times."
Meanwhile, Fischl's Ein Immernachtstraum (roughly translates to "An Evernight Dream") seems like something from a fairytale. Perhaps from her favorite series, "Flowers for Princess Fischl"? It's a ceremonial outfit for the Prinzessin, adding to the theory that it could be based on the outfit Princess Fischl wears in the books. As noted in the trailer, Ein Immernachtstraum will be available for free as an event reward.
If that's anything to go by, Diluc's skin will likely be up for purchase in the shop starting in Genshin Impact 2.8. You can claim Ein Immernachtstraum for free only until the end of the Summer Fantasia event. Otherwise, you'll need to pay like with the past four-star skins for Barbara and Ningguang.
What are the Genshin Impact version 2.8 events?
The Golden Apple Archipelago returns during Summer Fantasia with three main events: Summertime Odyssey, Reminiscent Regimen, and Resonating Visions.
The Summertime Odyssey story quest stars Fischl, Kazuha, Xinyan, and Mona. It's rooted in Fischl's identity as the "Prinzessin" and "commander of darkness." There's something she's looking for here and the other three are there to "roleplay" as her retainers.
The event description reads, "As summer comes into its own, Fischl receives an important missive and departs with everyone in tow to begin another marvelous sojourn..."
It also features a domain challenge where characters correspond with mechanisms inside to quickly defeat enemies. We have yet to know all the details, but the Genshin Impact 2.8 livestream shows an example of how it works with Xinyan interacting with a mechanism to activate a wind current.
Meanwhile, Reminiscent Regimen focuses on co-op experiences. Grab a friend to clear challenges, like escorting a raft through dangerous waters, to earn Primogems, Mystic Enhancement Ore, Character EXP Materials, Mora, and Talent Level-Up Materials.
Lastly, Resonating Visions is the must-play event for those who want the Fischl skin. It resembles the first Golden Apple Archipelago event with the return of talking conches. Collect their stories to earn rewards, including Fischl's Ein Immernachtstraum costume.
There's also a backstory event with combat challenges related to Diluc's Red Dead of Knight costume and an Evermotion Mechancial Painting event about helping a young man from Fontaine.
What quests can I expect in Genshin Impact version 2.8?
Kazuha will finally receive his own story quest. It's wild, considering it's been months since Kazuha's debut and the importance of his role in the Inazuma story arc. Shikanoin Heizou also gets his own set of hangout events in Genshin Impact 2.8. This all aligns with what leakers Project Celestia and Ubatcha said in the past about these two characters.
As more information is made available about Version 2.8, we'll update this article accordingly.
This article was originally published on