Genshin Impact's Tighnari Gets a New Voice Actor After "Cringy" Scandal
A new sound for the Foxy Forest Ranger.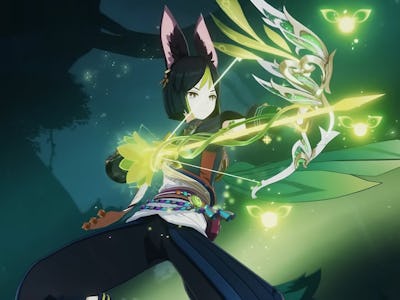 Zachary Gordon, who played Greg Heffley in the Diary of a Wimpy Kid series, has a new claim to fame. Now he's Tighnari, the lead forest ranger of Avidya Forest in Genshin Impact.
HoYoverse confirmed that Gordon will appear in the Genshin Impact 3.6 update, replacing disgraced actor Elliot Gindi, who was removed from the game after numerous people — including his former Twitch and Discord moderator — came forward with disturbing accusations of inappropriate behavior. The actor apologized for what he described as "cringy sex talk" — which is putting it very mildly, from the sound of things. But the damage was already done.
HoYoverse announced Gordon's introduction to the English voice cast yesterday on its official channels. Voice actors followed suit with a lively welcome. Zach Aguilar (Aether, The Traveler) complimented Gordon's talent and welcomed him to the cast. Khoi Dao (Albedo) joked about the number of Zachs on the cast.
Fans flooded Gordon's VA announcement with Diary of a Wimpy Kid memes as a sign of their appreciation. (It's similar to what happened when HoYoverse announced Candace, who shares a name with a Phineas and Ferb character.) Much of the art included Tighnari drawn in the style of Diary of a Wimpy Kid — the thickly outlined, black and white lineart.
Some fans still worry that Gordon won't meet the same highs that Gindi did as Tighnari. Much of the community thinks it's for the best that we forget the past and move on, though.
"I would personally just yeet the old VA from my personal Irminsul," one fan said, referencing an in-game term for one's inner mind. "He did a great job at voicing Tighnari but what he did was inexcusable and I'd hate to hold the new VA to that standard."
"To me, this new one will be all that there was."
HoYoverse confirmed that English voiceover for Tighnari will be updated in Genshin Impact 3.6. However, the company hasn't specified to what extent the voiceover will be implemented: whether all of the voicelines will be replaced, or if Gordon has only voiced Version 3.6 content so far.
Inverse reached out for comment but didn't receive a reply at the time of publication.
Genshin Impact is available for PC, iOS, Android, and PlayStation.