Genshin Impact Voice Actor Apologizes For "Cringy Sex Talk" Amid Troubling Allegations
Elliot Gindi provides the English dialogue for Tighnari.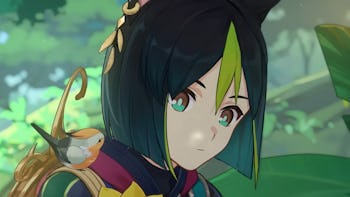 HoYoverse
Genshin Impact voice actor Elliot Gindi has been accused of sexual and otherwise inappropriate behavior toward fans, including underage ones. Gindi provides the English dialogue for Tighnari, a 5-star Dendro archer and forest ranger that debuted in Genshin Impact 3.0.
On February 7, Gindi's former Twitch and Discord moderator Matty shared a lengthy document (that has since been moved to a separate website) containing allegations from at least three victims from his server which details their alleged experiences with him. The Google Doc comes with a disclaimer for "sexual language, coercion, grooming, and minor antisemitic language."
Words from the victims — Contributors to the document allege that Gindi "wiped" messages between them to deny knowing that they were underage. Others alleged that Gindi neglected to use their preferred pronouns and fetishized them based on their sexuality.
Matty told Kotaku that they acted as Gindi's Discord moderator until February 6 and planned to leave after making the allegations public.
"I was going to [ping] everyone in the server with the link and then leave, which is what I did," they said.
According to Twitter analytics, Matty's tweet has been viewed more than 10 million times. Two accusers have also shared their claims on Twitter. No formal charges against Gindi have been announced so far. Gindi has responded to the claims with a Twitlonger confirming some allegations while denying others.
The apology — In his Twitlonger, Gindi admits to engaging in "cringy sex talk" and threatening suicide to keep victims quiet. He explicitly denies that he "knowingly did anything with anyone underage."
"What is true: All of the screenshots of the chat logs. Yes, all of the cringy sex talk. Yes, I did threaten suicide if it got out. I didn't think through the severity of that. I'm sorry," he wrote. "I never intended to change someone ace [or asexual], they insisted this is what they wanted. I ended things, but later gave in to emotional weakness and re-engaged when I was offered a chance to."
Gindi also apologized for "times when I've streamed in my boxers," while denying accusations that he "knowingly did anything with anyone underage."
"I understand that my actions have consequences, and am committing myself to accepting my responsibility while making the effort to get — and do — better," he ended the note.
Genshin VAs response — Several Genshin Impact voice actors have tweeted about supporting Gindi's victims. Zach Aguilar (Aether) and Erika Harlacher (Venti), who have hosted Genshin English VA group streams in the past, specifically mentioned removing Gindi from any streams and activities that they have a part in organizing.
Yoimiya VA Jenny Yokobori condemned Gindi for what she sees as Gindi using his platform to take advantage of fans.
"I'm so goddamn sick of the excuse of "sudden fame" for these predators," she wrote. "A lot of followers doesn't make you a predator. You were just a predator waiting for a lot of followers. This is ESPECIALLY obvious since he admits he went after a specific victim BECAUSE they were a fan."
Many fans are calling for HoYoverse to recast Tighnari, as the developer did after an early 2022 scandal involving the Chinese VA for Fischl's raven, Oz.
HoYoverse confirmed to Inverse that the company is aware of the allegations, though at this stage it is not clear if Gindi's role in Genshin Impact will be affected.
"We deeply regret the harm and damage that happened to our fans, gamers, community, and anyone affected. Both our internal teams and external partners including our voice acting studio have been working together on an urgent solution. And we will keep you posted on the progress."