Genshin Impact Version 3.6 Is Coming — Here's What to Know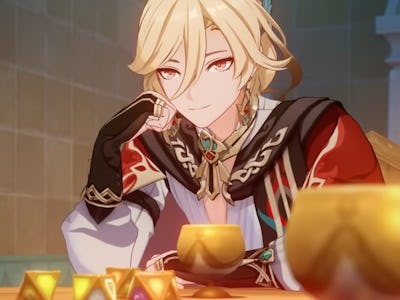 HoYoverse
Genshin Impact is creeping closer to the end of Sumeru's spotlight. It feels like just yesterday that HoYoverse introduced the Dendro element and the latest batch of Archon Quests related to the new country. Now, it seems to be wrapping up loose ends — and perhaps connecting players back to previously released regions. Kaveh, Alhaitham's sassy roommate, might even join the roster as a playable character. Here's what we know so far about Genshin Impact version 3.6.
When is the Genshin Impact version 3.6 release date?
Genshin Impact 3.6 is expected to launch on April 12, 2023. If it's anything like past updates, it will actually launch the day before at around 9 p.m. Eastern. We based this estimate on the March 1 release date for Genshin Impact 3.5 and counted six weeks from then.
Note that HoYoverse hasn't confirmed the release date. It also hasn't announced any changes to its 6-week schedule.
What are the Genshin Impact version 3.6 character banners?
HoYoverse confirmed Baizhu and Kaveh as upcoming characters for Genshin Impact 3.6. You can view their character previews on its social media pages like Twitter and Facebook.
You might remember Baizhu from Liyue's Babu Pharmacy, a place that the Traveler visits during their adventure in Liyue. Kaveh, the famous architect that built the Palace of Alcazarzaray in Sumeru, also appears during the Traveler's journey to argue with his roommate, Alhaitham. Both Baizhu and Kaveh have yet to launch as playable characters, even though they already appeared in Genshin Impact story quests.
According to Baidu leakers, Baizhu will be a Dendro 5-star with HP-scaling support powers. Meanwhile, Kaveh will be a Dendro Claymore DPS whose kit mirrors Razor's.
Is there a new area in Genshin Impact version 3.6?
HoYoverse hasn't confirmed a new area coming in Genshin Impact 3.6. Enough leakers are discussing it that some kind of addition is possible, though.
Some leaks mention an area that connects western Liyue and northern Sumeru. Leaker Yukizero shared information about an area called "Chenyu Vale" that would be connected to Liyue but not Sumeru. Another leaker also brought up the "Penumbra" that might connect to an unnamed region releasing in 3.6. Note that these leaks are all related to an additional area and not necessarily related to each other.
Is there a new boss coming in Genshin Impact version 3.6?
Blank, a longtime Genshin Impact leaker, revealed that a new Dendro dragon weekly boss would debut in Genshin Impact 3.6 as part of a new Archon Quest. The dragon can apparently spawn additional enemies like the Oceanid weekly boss.
Another Genshin leaker, Babey, also claimed that new enemies like Anemo and Hydro Hilichurls would be a part of Genshin Impact 3.6. It's unclear if these enemies will be in the wild or in a domain like the Spiral Abyss.
Is there a new artifact set in Genshin Impact version 3.6?
Two artifact sets leaked ahead of the Genshin Impact 3.6 update. One Chinese leaker (via Reddit) claimed that one of these was an ideal set for Dehya's HP-dependent kit and the other was ideal for Childe as a Hydro DPS. However, the person who reposted the information noted that the leaker didn't have a track record for covering leaks, so the information about these abilities is questionable.
Want more?
Subscribe to Inverse Daily for more stories about games, science, and entertainment that you won't find anywhere else.
This article was originally published on