Here's Exactly When You Can Watch the Genshin Impact 3.6 Livestream
April showers bring May flowers.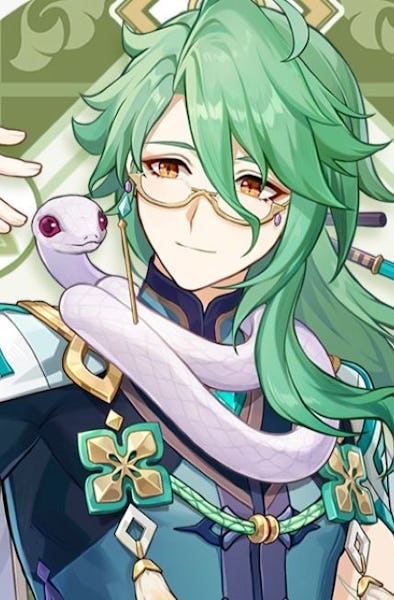 HoYoverse
The Genshin Impact 3.6 pushes the Dendro character count even higher with its two latest characters. Baizhu, Liyue's resident pharmacist and snake whisperer, finally arrives in all his Dendro-healing glory. Players can also finally judge how Kaveh works as a Dendro Claymore wielder, perhaps in a team with his roommate and former classmate, Alhaitham. There's also supposedly new story content starring the Dendro Archon, but that's something fans will need to confirm for themselves in the Genshin Impact 3.6 livestream.
Here's exactly when you can watch the Genshin Impact 3.6 livestream and what else you can expect from it.
When is the Genshin Impact 3.6 Livestream Start Time?
The Genshin Impact 3.6 livestream will air on March 31, 2023, at 8 a.m. Eastern. If you want to catch it live, then tune in on the official Genshin Impact Twitch channel.
There's no need to wake up early if you're not much of a morning person, though. The livestream will re-run on YouTube an hour later at 9 a.m. Eastern. At that point, the stream will turn into a VOD that anyone can watch on their own time. The special program isn't available on the Genshin Impact YouTube channel yet, but it should appear slightly before the scheduled airtime on March 31.
If you're watching the livestream for the Primogems, be sure to claim them as soon as possible! Primogem codes appear during livestream intermissions and shouldn't be difficult to find. Fans also repost them on servers and social media for people just interested in reaping the rewards.
What Are the Genshin Impact 3.6 Banners?
Baizhu and Kaveh are confirmed characters for Genshin Impact 3.6. HoYoverse has yet to clarify if they will arrive in the first or second phase of the 3.6 update, though.
Some leakers like Oat__77 have claimed that Nahida, Ganyu, and Nilou will rerun in 3.6. SpendYourPrimos, a reputable Genshin Impact aggregate account, warned players that the existing leaks weren't reliable enough for them to promote in their feed.
"Reminder that upcoming banners cannot be datamined," they wrote. "This is not to say the recent banner leaks from @vississLeak are inaccurate, only that they are not reflected in data."
What Else Will Be Revealed During the Genshin Impact 3.6 Livestream?
Most livestreams introduce new characters, quests, events, and quality-of-life features that HoYoverse may add to enhance the Genshin Impact experience. Developers and special guests explain characters' abilities and backstories with gameplay footage so that fans can make an informed decision about whether or not they want to pull for them in the upcoming banners. Also expect cinematic trailers as previews for the new quests and the main event of the update, and an event roadmap for the rest of the smaller events.
Genshin Impact is available for PC, PlayStation 4, PlayStation 5, iOS, and Android.