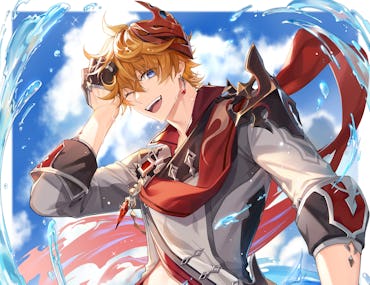 'Genshin Impact' Childe Tartaglia banner: 7 items to farm before 2.2 update
Childe is expected to get a rerun in 'Genshin Impact' Version 2.2. Ahead of the update, this he needs to reach his strongest level.
The biggest Genshin Impact heartthrob might be returning. Childe has an impressive resume. He's a five-star Hydro archer, one of the Fatui's eleven Harbingers, and a total stud. According to data miners, he might receive a re-run in Genshin Impact Version 2.2. If you missed him the first two times, you'll have a chance to obtain the character again when the update is available on October 12, 2021. Here's everything you should collect to quickly upgrade Childe once Genshin Impact Version 2.2 is available.
Genshin Impact Childe Ascension and Talent materials
To ascend Childe and unlock his level caps, you need the following items:
Varunada Lazurite
Cleansing Hearts
Starconches
Fatui Insignias
Upgrading Childe's talents requires these items:
Fatui Insignias
"Freedom" talent books
Crowns of Insight
Shard of a Foul Legacy
Here's how you can collect nearly everything right now.
Genshin Impact Varunada Lazurite locations
Varunada Lazurite and all its variants are primarily obtained by defeating the Oceanid boss located in Liyue's Bishui Plain.
On occasion, you'll receive Lazurite for defeating weekly bosses like Tartaglia in the "Enter the Golden House" domain and Stormterror. You can also purchase small sums of Varunada Lazurite from souvenir shops in Liyue and Mondstadt.
Childe requires one sliver, nine fragments, nine chunks, and six gemstones. If you have any overflow, all Varunada Lazurites can be crafted into higher levels using a Crafting Bench.
Genshin Impact Cleansing Heart location
The only way to obtain Cleansing Hearts is by defeating the Oceanid found in Liyue, Bishui Plain. You'll obtain one to three Cleansing Hearts for every victory. Additionally, the boss drops Varunada Lazurite that Childe also needs. It might save you some time to repeatedly fight this boss.
Childe requires 46 Cleansing Hearts in total.
Genshin Impact Starconch locations
While Starconches can be found on shores throughout Liyue, they can be easily farmed from two locations.
Yaoguang Shoal's southern-most shore area features them in abundance but they can be found scattered across the rest of the shoal. Secondly, check out the Guyun Stone Forest, south of the Yaoguang Shoal.
While on the hunt for Starconches, look out for their light blue coloring. You can also use your Elemental Sight to help them further stand out from the sand. Childe is expected to require 168 total Starconches to unlock all his level caps.
How can you farm Insignias in Genshin Impact?
Childe requires Recruit's Insignia, Sergeant's Insignia, and Lieutenant's Insignia throughout leveling up his character. These are necessities for both increasing his talent level and ascending her level cap.
All three items are found by killing human enemies affiliated with the Fatui. Recruit's Insignia is dropped by any slain human enemy; Sergeant's Insignia are dropped by level 40 and up humans; Lieutenant's Insignia is dropped by humans that are level 60 and higher.
A great way to farm these items is by defeating Fatui bosses like the Electro Cicin Mage, the Fatui Pyro Agent, and Fatui Skirmishers. Fatui bosses can be easily located by using your journal and heading to the "Bosses" tab. This will provide you exact locations to fight each one.
None of these bosses require Resin to reap the rewards, so you can grind to your heart's content.
To ascend Childe to his max level, you'll need a total of 18 Recruit's Insignia, 30 Sergeant's Insignia, and 36 Lieutenant's Insignia. If you're trying to max out Childe's talents, you'll need 18 Recruit's Insignia, 66 Sergeant's Insignia, and 93 Lieutenant's Insignia.
Genshin Impact "Freedom" talent book locations
You're going to need books from the "Freedom" talent books to max out Childe's abilities.
This series consists of Teachings of "Freedom," Guide to "Freedom," and Philosophies of "Freedom." You can find all three as drops from the Forsaken Rift domain located in Mondstadt by Springvale. You first need to be Adventure Rank 27 to access the domain and you need to visit the Rift on Monday or Thursday or Sunday to secure the drops.
For specific numbers, Childe requires nine Teachings of "Freedom," Guide to "Freedom," and 114 Philosophies of "Freedom."
Genshin Impact Crown of Insight locations
A Crown of Insight is required to max out every single late-level talent in Genshin Impact, and that includes Childe. Alas, you cannot farm the Crown of Insight at a controlled pace. It's primarily acquired through events at a rate of around one Crown per event.
If you can't wait for another event, you can also nab a Crown of Insight by upgrading the Frostbearing Tree in Dragonspine to level 11 or by increasing the level of your Sacred Sakura's Favor in Inazuma. The Sacred Sakura currently unlocks Crowns of Insight at levels 5, 15, and 25.
Genshin Impact Shard of a Fowl Legacy location
Childe needs 18 Shard of a Fowl Legacy to max out his talents. This begins being required at Talent level six. You can acquire Shard of a Fowl Legacy by defeating Tartaglia in the Enter the Golden House Trounce Domain when set to level 70 or higher.
The domain becomes available after completing Chapter 1, Act 3: "A New Star Approaches." You can challenge the domain once per week with the reset occurring on Monday at 4 a.m. Eastern.
Genshin Impact Version 2.2 will be available on October 12, 2021.
This article was originally published on