Everything we know about Genshin Impact 1.1 and the 2021 roadmap
This world's expanding already.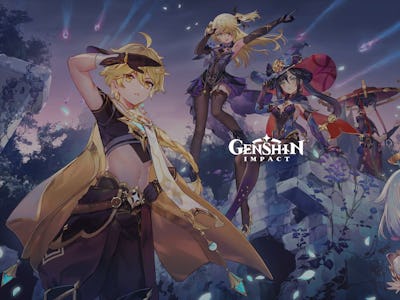 In a few short weeks, Genshin Impact has become wildly popular as a free-to-play take on Breath of the Wild-style gameplay. The game will receive its first major update in the form of version 1.1, which adds new story elements and brand new events. Developer MiHiYo has also detailed other upcoming changes to Genshin Impact that will occur through February 2021.
Here's everything we know about Genshin Impact version 1.1 and the 2021 roadmap.
When is the Genshin Impact 1.1 update release date?
According to MiHoYo, Genshin Impact version 1.1 will arrive November 11, 2020. It will come with an event called "A New Star Approaches."
Is there a trailer for Genshin Impact version 1.1?
In the trailer, we see a great battle between the Fatui and the Adepti, showing the grand conflict that we can expect version 1.1 to include. We also get a glance at all the new playable characters like Zhongli, Childe, Xinyan, and Diona.
When are the Genshin Impact 1.2 and 1.3 release dates?
Genshin Impact 1.2 will launch on December 23 and come with a new location called Dragonspine Snow Mountain. In the current game, this area is marked in red on your map. If you attempt to enter it, Paimon will chide you for being irresponsible. Dragonspine Snow Mountain was previously explorable during Genshin Impact's beta test if you used a specific glitch to enter. That has since been patched.
Genshin Impact 1.2 will launch in early February 2021. Alongside the 1.3 update, MiHoYo will add the Lantern Rite Festival event which takes place across the Liyue region.
Beyond February 2021, MiHoYo has expressed plans to update Genshin Impact consistently every five to six weeks.
Will Genshin Impact version 1.1 add new characters?
The update will add four playable characters: Zhongli, a Geo-based character that attacks using polearm weapons; Childe, a Hydro-based character that uses a bow; Diona a Cryo-based character that uses a bow; and Xingyan, a Pyro-based character that uses a sword.
Zhongli's moveset has already leaked onto mobile servers and can be watched below.
Later playavle candidates include Baizhu, Dainsleif, and Ganyu. Each of these characters previously appeared or were playable during beta tests. Many already appear in Genshin Impact via the sample voice-over section, where they're mentioned directly by name, but remain locked.
If we use the sample section as a roadmap, it also brings seven new names as potential playable characters: Yaoyao, Yunjin, Varka, Rosario, and Albedo. These names were found across voice lines for characters like Barbara, Kaeya, and Beidou.
This gives us a slate of 11 new playable characters to expect down the line.
Will Genshin Impact version 1.1 add more story missions?
Yes! It will. Genshin Impact Version 1.1 will complete the story missions for the Liyue chapter, concluding the Rex Lapis-centric narrative.
Will Genshin Impact version 1.1 include new events?
Yes! kick off with a two-week seasonal event called Unreconciled Stars. Players can accomplish a series of new quests, take part in a range of new co-op challenges, and earn rich rewards including the 4-star character Fischl.
What other changes will be added in Genshin Impact 1.1?
In addition to the aforementioned expansions, Genshin Impact version 1.1 is said to bring numerous gameplay adjustments as allegedly seen in the current 1.1 Beta server.
Anemoculus Sync Stone, Geoculus Sync Stone. These would likely be used to change the Traveller's element on the go.
Geo and Anemo Finder Compass. Likely used to locate missing offerings to the statue of the seven.
Wind capturing bottle. Allows you to store Ameno seeds so to generate a windfield anywhere.
Pocket Teleport Anchor. Used to place a teleporter anywhere on the map. Only one can be active at a time and it lasts seven days.
Type 30 Portable Nutrient Bag. This would be used to place food in for quick access.
New Dungeon called Golden House. This would seemingly include a boss fight against Childe.
Reputation. A system that allows players to build relationships with each major city in a region, unlocking bountiful rewards.
Every mentioned addition would be an exciting change for Genshin Impact. Original Resin is what allows players to complete leylines, making valuable assets for grinding players. If that could be condensed to have more value, it would be much easier to progress in Genshin Impact.
If these are real changes to expect in the next update, Genshin Impact could become drastically more expansive in a short time.
Could the Genshin Impact 1.1 leaks be fake?
Could these amazing leaks be fake? Certainly. When the leaks began sprouting up on the official Genshin Impact Discord channel, the team established that they were questionable at best.
Genshin Impact is currently available on PS4, PC, and mobile.
This article was originally published on