Here's Exactly When You Can Start Playing Forza Motorsport on Xbox and PC
On your marks, get set, go!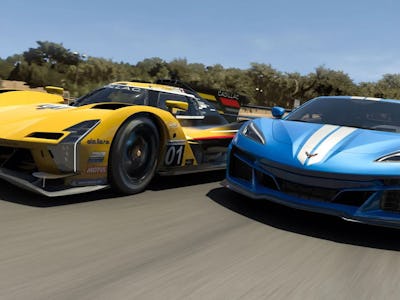 Xbox Game Studios
The Forza Horizon series has been a major part of Xbox's lineup since the launch of the Series X/S. Its vast open-world map made it a hit even with players who normally steer clear of racing games, aided by its gorgeous graphics.
Players who joined the racing circuit for the first time with Forza Horizon may not be familiar with Forza Motorsport. The series has been running since 2005 but hasn't seen an entry since 2017's Forza Motorsport 7. Recent converts are about to get their first chance to see the series on a modern console as Forza Motorsport hits Xbox Series X/S and PC in early October 2023. Here's everything you need to know about the title, including when you can play and how much space you'll need to download it.
What Is the Forza Motorsport Release Date and Time?
Forza Motorsport's early access period began the week before its official launch, so anyone who bought the game's Premium Edition is already able to play. For everyone else, it will be available late on October 9 or early October 10, depending on your time zone.
Almost everyone will have access to Forza Motorsport at 12:01 a.m. local time on October 10 on Xbox and PC. The exception is in the U.S., where it will unlock at 12:01 a.m. Eastern time for everyone, regardless of their location. That means that if you live in the Pacific time zone, you can start playing at 9 p.m. on October 9.
Can You Pre-Load Forza Motorsport?
Yes! Preloading for Forza Motorsport began on Xbox consoles and PC through the Microsoft Store on September 18. Steam began allowing preloads on October 3. If you've already purchased the game, just head to whichever storefront you got your copy from and you should see an option to pre-load either in your game library or on its store page.
What Is the Forza Motorsport File Size?
Forza Motorsport has a pretty hefty file size no matter which platform you're playing on. (That's how they fit all those cars in there.)
On Xbox Series X, Forza Motorsport takes up 133 GB, and it's a slightly lighter 100 GB on Xbox Series S. On PC, it clocks in at 119 GB. If you plan to pre-load, make sure you make room for it beforehand, particularly on consoles, where it's likely to take up a large chunk of your available drive space.
What Are the Recommended PC Specs for Forza Motorsport?
A few weeks before launch, developer Turn 10 released a detailed breakdown of required and recommended PC specs for Forza Motorsport. On the low end, it requires components that are quite a few years old now, including an NVidia GTX 1060, which should make it accessible to most players.
The "ideal specs" are much more demanding, calling for an RTX 4080, with an NvME SSD requirement. These solid-state drives are quicker to load from, so it makes sense that one would be necessary to load Forza Motorsport's ultra-detailed assets as you zip by at top speed.
There's also support for native resolutions above 4K, but DLSS 2 support means that even if your PC isn't top-of-the-line, you should be able to pull great image quality out of any supported RTX graphics card.
Forza Motorsport launches on Xbox Series X|S and PC on October 10.