FF7 Rebirth and Yakuza 8 Prove 2024's Weirdest Gaming Trend Is Already Here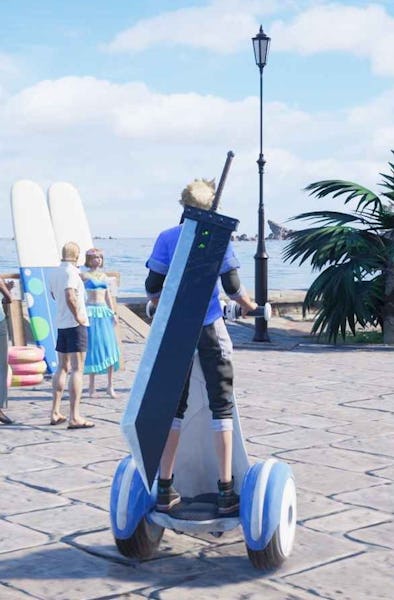 Square Enix
Just like the ever-changing trends of the fashion world, video games have certain trends that go in and out of style every year. One year the hottest accessory for a gruff protagonist to have is a bow and the next year it's all about remakes. Each new trend is unpredictable until suddenly it appears.
While 2023 isn't even over, 2024's hottest trend is already making itself clear thanks to the likes of Final Fantasy 7 Rebirth and Like a Dragon: Infinite Wealth sharing the same eye-catching feature. That's right, 2024 is the year of the Segway.
Both Cloud Strife and Ichiban Kasuga were seen traversing their respective sunny settings on the peculiar vehicle in the latest trailers for Final Fantasy 7 Rebirth and Like a Dragon: Infinite Wealth. Not to mention both protagonists also make the strong choice to bring capri pants back into vogue.
Final Fantasy 7 Rebirth continues Square Enix's ambitious remake trilogy of the 1997s classic RPG and lets players roam the open world beyond Midgar which in true RPG fashion requires a plethora of vehicles and animals to help you get where you are going.
While Chocobos and trucks are making a return the introduction of the Segway was an unexpected but very welcome addition. It also fits the vibes of vacation town Costa del Sol, in which we see Cloud riding around on the device (dressed in the aforementioned vacation capris... which I'm not sold on).
Similarly, Ichiban's own Segway adventures occur in the sunny and tropical setting of Hawaii. What better mode of transport could there be than a Segway to traverse the beautiful island landscape?
So, should we expect all of 2024's biggest games to include Segways? Sure! Why not? SEGA already has the Segway in Infinite Wealth so there is no reason it couldn't also make an appearance in Persona 3 Reload! Or maybe Ubisoft's new adventure in a galaxy far far away will include a sci-fi riff on the Segway. Anything is possible.
I think Square Enix should keep the good vibes going and give Warriors of Light a Segway mount in Final Fantasy XIV: Dawntrail, the next expansion that also is going for a vacation vibe.
2023 has been a year of extremes when it comes to the biggest games of the year. We've had horror adventures like Dead Space and Resident Evil 4, dark epics such as Final Fantasy XVI, and non-stop horniness in Baldur's Gate 3. It's been a whirlwind year of incredible releases across the board. We could all use a bit of a vacation, and 2024's games should reflect that by embracing the chill vibes that the Segway is already bringing to Final Fantasy 7 Rebirth and Infinite Wealth.
Final Fantasy 7 Rebirth comes to PS5 on February 29, 2024. Like a Dragon: Infinite Wealth launches January 26, 2024 for PC, PS4, PS5, Xbox One, and Xbox Series X|S.