Baldur's Gate 3 Proves 2023 Is the Year of Saucy Games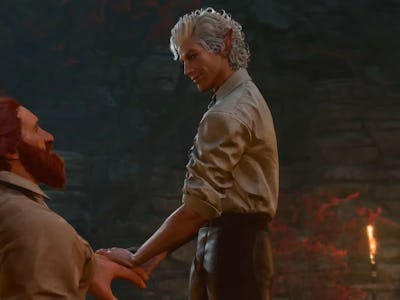 Larian Studios
Baldur's Gate 3 is the latest game to take the internet by storm, wracking up over 800,000 concurrent players on Steam just days after launch. While Baldur's Gate 3's quality speaks for itself, part of that attention has invariably been driven by the game's romance options, namely how outright horny everyone seems to be. It's refreshing to see a game so unabashedly afraid of talking about and using sex, especially in such a choice-driven format. Baldur's Gate 3 is the latest in a line of games released this year, showing that video games might finally be coming to grips, at least a bit, with their sexlessness.
Roughly 60 hours into Baldur's Gate 3, I've quite literally stumbled into multiple romance scenes, with characters practically lining up to take me to bed. My generally "good" and friendly character has seemingly set the loins of the entire world aflame. I've been a bit taken aback by how easy these romance options have been, as generally, these kinds of RPGs make you painstakingly build up a relationship for dozens of hours.
This idea has only grown on me as I spend more time with Baldur's Gate 3. Sex often feels so artificial in video games, or sometimes weirdly "gamified." But here, sex and physical attraction are just something that happens, which makes abundant sense in context. The party in Baldur's Gate 3 is all infested with Mindflayer Tadpoles, and could seemingly turn into one of the creatures at a moment's notice. This has led pretty much everyone to try and embrace the present and revel in what they can while they can. When you put a group of exceedingly attractive people together in a small camp, with that affliction, something's gonna happen.
There are also options for polyamorous relationships, characters that lay out clear-cut boundaries, casual flings, and more. It's clear that Larian Studios has put a lot of thought into Baldur's Gate 3's relationships, outside of them just simply being "horny." It's hard to think of a better example we've seen since the Dragon Age games, but it's just the tip of the spear in terms of the year as a whole.
2023 has seen an array of games that seemingly encourage fans to be "thirsty" for its characters. Final Fantasy XVI introduces more sexual themes than the series has ever seen, and certain character designs, like Clive's tight leather outfit, certainly seem like they're designed intentionally. Where previous installments of the series traded in longing gazes and accidental embraces, FFXVI features several tastefully rendered moments of "adult situations" between numerous members of its cast.
Like a Dragon: Ishin includes a hilarious sauna fight that barely obscures the two burly men's private areas with tanatalizing clouds of steam. Then there's Resident Evil 4, which made fans fall for the lovable himbo Leon all over again. Past that, there are even more obvious examples. Atomic Heart isn't especially fun, but its extremely horny upgrade machine is certainly one of the more memorable parts of the game.
2023 feels like it's the beginning of an industry finally grappling with something it's struggled with for years, decades even. The fan reception to Baldur's Gate 3 makes it clear that the "horniness" is something audiences have been craving.
Baldur's Gate 3 is out now on PC, and comes to PS5 September 6.