Final Fantasy VII Spinoff Book Suggests a Character From Tifa's Past Could Return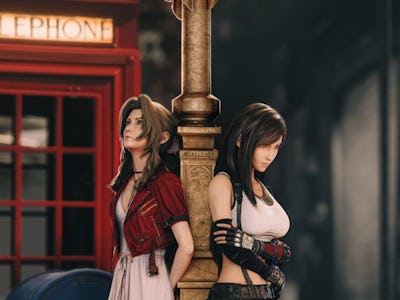 Square Enix
Outside of one announcement trailer, we still know almost nothing about Final Fantasy VII Rebirth. Producer Yoshinori Kitase has said Rebirth doesn't "heavily deviate from the original," but it's hard to picture how true that will be after some of the wild twists of Remake. While we may not know story specifics, a new spinoff novel released by Square Enix might give our first clue of some new plotlines that we can expect to see in Rebirth, which include one vital character from Tifa's past.
Traces of Two Pasts is a new novel written by Kazushige Nojima, the scenario writer behind the original Final Fantasy VII as well as Remake and Rebirth. The book dives into the past of both Tifa and Aerith, chronicling events from their childhoods up to the years right before the start of FF7. There's a multitude of new and returning characters, but by far the most interesting is Tifa's martial arts master, Rashard Zangan.
Zangan appeared in the original FF7 in two very short scenes, and you can talk to him when playing as Cloud during the Nibelheim flashback. He's later seen trying to save the townspeople when Nibelheim is on fire, after Sephiroth's attack.
In Traces of Two Pasts, however, we see how Tifa met Zangan as a child when he brings his workout program to the people of Nibelheim. The master immediately takes an interest in Tifa and bring her on as his apprentice, teaching various forms of martial arts over the years. More than that, however, Zangan's teachings become a way of life for Tifa, a way to ground herself when everything else spins out of control. What's especially interesting, however, how the novel explores the events after Zangan rescues Tifa after the burning of Nibelheim. He's the sole reason she's still alive, and their shared history didn't end there.
Without spoiling any further events of the novel, we learn that Zangan is alive and well by the time FF7 Remake starts, and Tifa feels certain they'll meet again. This seemingly suggests that Zangan could play a role in the story of Rebirth, either as a major character or a part of a major side quest for Tifa. Considering Zangan was at Nibelheim during Sephiroth's attack, he could play a role in uncovering the truth of the events, and the pivotal moment where Cloud realizes he's taken on the persona of his friend Zack. Further, Zangan could help hone Tifa's skills and give her a new Limit Break or ability.
What lends more credence to Zangan's involvement is that Square Enix has already set a precedent for introducing characters from spinoffs. FF7 Remake heavily features two characters introduced in another spinoff novel called The Kids Are Alright: A Turks Side Story. These characters are Kyrie Canaan, a savvy young girl that lives in the slums, and Leslie Kyle, Don Corneo's right-hand man. Leslie plays a particularly huge role in the main story, helping Cloud and the group at multiple points. Remake also mentions Kunsel, one of Zack's friends from Crisis Core.
Square Enix is clearly trying to integrate all of the various elements of FF7's universe, and in that context, it seems incredibly unlikely the company would simply release a one-off novel, written by Nojima no less. Basing Traces of Two Pasts around Tifa and Aerith was a clearly intentional choice, especially as there are already hints Tifa could play a vital role in the ongoing story.
If you want to see some hints toward the future of FF7 or get some fun backstory, like seeing Tifa meet Wedge, then Traces of Two Pasts is absolutely worth a read.