Diablo IV Server Slam Is Your Last Chance to Play Pre-Launch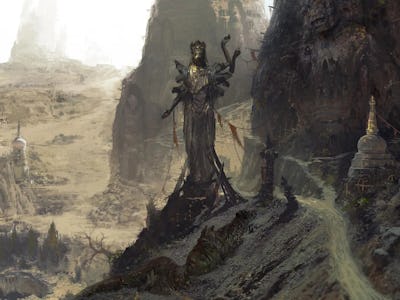 Blizzard Entertainment
Before the gates of hell open, unleashing hordes of demons and devils upon gamers in the form of Diablo IV's release on June 6, developer Blizzard Entertainment is hosting another "Server Slam" open beta in mid-May. The main goal of these trial periods is to put as much stress on the servers as possible all at once to test whether or not they'll be able to handle the full launch. If you're eager to experience what the new dungeon-crawler has to offer before launch, this will be your last chance to do so — and it's during a very limited window.
Here are all the details so you can brace yourself for Lilith's arrival.
Diablo 4 Server Slam Dates and Times
This final Server Slam will run for a tight 48 hours — from May 12 to 14 — with a simultaneous launch across all regions at high noon Pacific time.
12 p.m. Pacific on the US west coast
3 p.m. Eastern for the US east coast
9 p.m. CEST for Europe
8 p.m. BST in the UK
4 a.m. JST on Saturday, May 13 in Japan
Again, it'll conclude exactly 48 hours later on Sunday for most regions, except for Monday in Japan.
How to Access the Diablo 4 Server Slam
For anybody who has played early versions of Diablo 4 already and still has the app downloaded, there is already an update available for it. If you're dipping in for the first time on a console, merely go to the game store and search "Diablo IV–Server Slam" to download it for free. Both of these options went live on May 10 at 3 p.m. Eastern.
Over in PC, things get a touch more complicated. You'll have to launch Blizzard's Battle.net client and do the following, per an official blog post:
Once you get to the Diablo IV Game Page, click the dropdown menu under Game Version and select the Diablo IV – Server Slam option. Click the blue button that says Install. The game will begin to install, and once it's available, click Play to Launch.
Diablo 4 Server Slam Platforms
One major boon: The Diablo 4 Server Slam will be available across almost all platforms. Xbox One, Xbox Series X|S, PlayStation 4, PlayStation 5, and PC are all included with both crossplay and cross-progression. The console versions will also include couch co-op.
Diablo 4 Server Slam Classes
All five of the game's current classes will be included as part of the Server Slam
Barbarian
Druid
Necromancer
Rogue
Sorcerer
Diablo 4 Server Slam Level Cap and Progress
This Server Slam will have a level cap of 20. Upon reaching the said cap, players will still earn gear but will not gain any more Ability Points. Unfortunately, no progress for any characters carries over from previous early access/beta opportunities, and nothing will carry over into the full game.
Diablo 4 Server Slam Content
The Server Slam includes the game's Prologue and all of Act 1 with the entire first zone, Fractured Peaks, open to players. Blizzard has teased a variety of content as well: "Visit Kyovashad to repair and purchase new gear, upgrade your healing potion, access the Stash, and much more. There are also both Main and Side Quests to experience Sanctuary's rich story, World and Legion Events to exercise your martial prowess, and Dungeons to amass gear from."
There's also a World Boss called Ashava billed as "one of the Burning Hells' most fowl machinations," probably on account of the fact that she's a big demon bird sort of thing with "razor-sharp arm blades" and "scales stronger than plate mail." Ashava will appear on May 13 at 12 p.m. Eastern (24 hours after the Slam starts) and then reappear every 3 hours until one last spawn on May 14 at 12 p.m. Eastern — just three hours before the Slam ends.
Diablo 4 Server Slam Rewards
Any players who hit Level 20 and slay Ashava will receive the Cry of Ashava Mount Trophy. Additionally, rewards from previous betas and early access periods will also be available:
Initial Casualty Title: Reach Kyovashad with one character.
Early Voyager Title: Reach Level 20 on one character.
Beta Wolf Pack Cosmetic Item: Reach Level 20 on one character.