Here's Exactly When You Can Start Playing Detective Pikachu Returns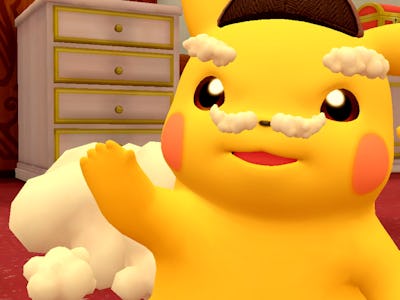 Nintendo
Detective Pikachu is one of the stranger Pokémon spinoffs out there, featuring a talking Pikachu that has the persona of a middle-aged man, solving mysteries with his human partner Tim. Much like the original, Detective Pikachu Returns eschews the battling the series is known for in favor of a simple point-and-click adventure, managing to weave a compelling character-focused story in the process.
It's been six years since the original 3DS game, and fans are eager to see if the duo can finally complete their goal of finding Tim's missing father Henry. For those waiting, here's exactly when you can start playing Detective Pikachu Returns, along with info on file size and pre-loading.
What Is the Detective Pikachu Returns Release Date and Time?
Detective Pikachu Returns releases on October 6, exclusively for Nintendo Switch. First-party Nintendo games, that also have physical releases, typically go live on the Nintendo eShop the night before the release date at 9 p.m. PT and 12 a.m. ET. This means if you've pre-loaded you'll be able to play the game on October 5 at 9 p.m. PT. Physical copies, of course, will be out in the wild on October 6.
Can You Pre-Load Detective Pikachu Returns?
Yes, Detective Pikachu Returns is available for pre-load on the Nintendo eShop. Nintendo games are available to download on Switch up to seven days before their release date.
What Is the Detective Pikachu Returns File Size?
Detective Pikachu Returns clocks in at roughly 10 to 12 hours of playtime, which means you won't have to worry about clearing too much room for it. The game takes up 8.9 GB on Nintendo Switch and, of course, can be installed on either the system's hard drive or an inserted Micro SD card.
The size is actually pretty comparable to other Nintendo Switch games, as even Pokémon Scarlet and Violet are only 7 GB.
Are There Pre-Order Bonuses For Detective Pikachu Returns?
Unfortunately, Detective Pikachu Returns only has pre-order bonuses available in Japan, where players can get an exclusive Growlithe Trading Card Game card and miniature Pikachu statue. There are no pre-order bonuses or perks at any retailers in the United States or Europe. Keep in mind, however, that if you purchase the game through the Nintendo eShop or use the "Earn Points" option with the physical card, you'll get Gold Points that can be used toward digital purchases. You just need an eShop account to earn them.
Detective Pikachu Returns releases on October 6 for Nintendo Switch.
This article was originally published on