Inside the Secret World of the Real-Life Pokémon Professors
Exams, seminars, and championship-level controversies are par for the course.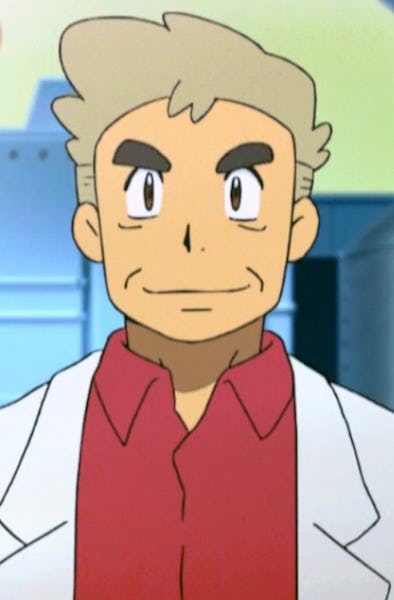 The Pokémon Company
When you think of Pokémon, it probably conjures up images of adventure, friendship and adorable creatures fighting for their lives. This endearing fantasy has captured the imaginations of millions, with tall grass in local parks everywhere inspiring a sea of Poké-possibility for budding trainers.
And every year, at the Pokémon World Championships, this fictional fantasy becomes very real. From children's brackets to adult finals, the globe's greatest video game and trading card players duke it out to earn the title of World Champ, in a series of dramatic showdowns that would make the Elite Four blush. And it's not just trainers that are made real in the glitzy world of competitive Pokemon, but it's smiling scientists — the Pokémon Professors.
Anyone who's played one of the classic RPGs will know a Poké professor. From the grinning grey greeting of Kanto's Professor Oak to the endearing eccentricity of Professor Elm, these lab coat-loving sages have long served as video game players' virtual guides. But in our world? They're Pokémon's revered referees.
From organizing tournaments for budding trainers in their regions, to adjudicating arena-rocking Pokemon battles on the world stage, these often overlooked experts are arguably the glue that holds competitive Pokémon together. Luckily, between all the serious adjudication, being a Professor sounds like an absolute blast. From making lifelong friends to travelling across the world — and even falling in love — becoming a Pikachu-approved professor is a Pokémon-worthy adventure in itself.
This year, 375 of those Professors travelled across the world to bring their monster-loving wisdom to the city of Yokohama. Though 2023 marks the 18th Pokémon World Championships, surprisingly, it's the first year the event has been hosted in Japan — and the excitement is palpable. Arriving at the convention centre's bustling concourse, the hum of anticipation from the 2000 gathered competitors and 10,000 spectators buzzes through the halls like a swarm of Beedrill.
As the Seniors video game final culminates in a dramatic knockout, the room erupts in rapturous applause. While the throng of gathered media rush over to interview the winning player, my eyes dart to an altogether more overlooked figure – a quietly smiling woman dressed in red. Meet Laurina Chouille, a level one Professor from the picturesque city of Toulouse, southern France.
A Pokémon fan since age 7, Chouille has obsessively played the video games ever since, throwing herself into Pokémon tournaments across France. Decades later, she's sitting on stage in front of thousands as a judge, helping to determine the winners of the 2023 Pokémon World Championships.
"I've lost count of how many times I've adjudicated games," says Chouille, "but it's always a nerve-wracking experience."
Like most professors, Chouille's journey to Pokémon stewarding began as a player. Having competed in the 2016 Worlds in San Francisco, she fully understands what's on the line. "The tension is palpable. Because the players are playing for trophies…. you can feel their stress, but when one of them wins, you really share the winner's emotion."
Much like a Pro player has to rise up in the ranks and defeat opponents from region to region, the road to becoming a professor starts at the local level. With Professors able to both organise and adjudicate tournaments in their hometowns, they essentially serve as the Pokémon company's local judges and liaisons, ensuring that the thriving battling scene is fair while providing local video game [VG] and trading card [TCG] players a place to rack up crucial Championship points.
In other words, without Pokemon professors, there simply wouldn't be a competitive Pokémon scene.
Much like their highly-respected fictional counterparts, becoming an IRL Oak takes years of knowledge and dedication. It also requires prospective profs to pass gruelling exams.
Would-be professors must know the games inside-out, Chouille explains, including revising all the new Pokemon and their various movesets. The first step to professor-dom is sitting the aforementioned multiple choice exam, quizzing would-be Pokemon experts on the intricacies of their chosen battling medium — either the VG or TCG. In a move that makes this sound even more like Pokémon school, successful Pokemaniacs then move on to the next Pokedex-testing portion — where they write two essays that are assessed by the Pokemon Company themselves.
Still, even professordom isn't without a healthy dose of competition. Much like players, Professors rack up Championship points from hosting and judging tournaments and must amass a certain number of points at a local level before they can qualify to oversee the World Championships.
If you're making a Psyduck-like expression right now, you're not alone. For a world defined by fun and colourful creatures, it all sounds like a lot of work. Yet for Chouille, it's not just enabled her to make friends and travel the world, but it's an adventure that helped her meet other half, Stéphane Ruffe.
"I started being a professor in 2016 - but he's been doing it forever," Chouille laughs, gesturing to the smiling Ruffe.
An English professor by day and a Pokémon professor by night, the studious Ruffe is an expert in the TCG, winning the French TCG championship in 2016. "I started playing in a Pokémon league when I was 10 years old in a chain of toy stores. The desire to win promo cards and badges had a strong influence on my childhood, and I haven't changed path since," he says.
Now, Ruffe is stuck with the unenviable task of ensuring that everyone's card decks are legal at this year's Worlds.
"It can be a challenge telling players that their decks didn't make the cut and that they've been disqualified, especially to young kids who've travelled across the world, and having to explain that to their parents," he says.
Sadly, even the wholesome world of competitive Pokémon isn't without its controversies. As I roam the halls on the first day of the championships, the usual elation is punctuated by frustration, and even tears, when a host of video game competitors are dramatically disqualified for using third-party software to generate their team of Pokémon. In a bid to save professional trainers a significant amount of time, this third-party software auto-generates 'hacked' Pokémon with optimal stats.
While the squads initially passed protocol from the professors — the software in question offers no competitive advantage, and was allowed at Worlds 2022 — The Pokémon Company took the unusual step of checking players themselves for the first Worlds on their home turf. That's where the controversial disqualifications occurred, Chouille tells me.
These occasional difficult moments aside, attending these events as a Professor is something that both Chouille and Ruffe take great pride in.
"I'm very happy to be in charge of a team of judges because I know first-hand the expectations of such an event," says Ruffe, "There's a lot of excitement and, above all, we feel honored by the trust Pokémon has placed in us."
"This is the third time I've taken part in the Worlds as a staff member, but the first time with a team of six judges in my charge as Head Judge," Chouille explains, "I admit to feeling a mixture of excitement and pressure when it comes to the scale and importance of this show, but the first feeling takes over. It's really satisfying to be here."
With winners at World's only earning $10,000 compared to the million-dollar prize pools of League Of Legends tournaments, it probably won't surprise you to learn that Pokémon professors are unpaid. While The Pokémon Company pays a stipend for travel costs to attend the World Championships, the 375 Professors worldwide do this purely for the love of the game.
Both Chouille and Ruffe organize at least two tournaments each month — and attend and deliver Pokémon seminars. For the couple, it's a fun way to give back to the community they fell in love with as kids, by ensuring that competitive Pokémon stays alive in Toulouse.
"Players from all walks of life can come along unpretentiously to learn the game and a taste of competition, but also to try and win a few Championship points to qualify for the World Championship," Ruffe explains.
After all this time, they still get a kick out of seeing the other work.
"We have a great advantage in that we don't judge the same game, so we enjoy the event from a different perspective," says Ruffe.
"Even though we come to the same tournament, we don't experience it in the same way, but we share the best moments together: planning the trip, seeing our competitor friends after the event, talking about our days here ... It's a real pleasure to share it," adds Chouille.
As the roar of the crowd reverberates around the hall for the final time this weekend, a group of Pokémon professors gather in front of a Worlds sign to take a celebratory photo. While the horde of happy fans begins shuffling their way out of the convention centre, my time in the world of competitive Pokémon is about to come to an end. Yet for the smiling but exhausted couple in front of me and their hundreds of unsung peers across the globe, you can be sure that the next exciting Pokémon battles are looming just over the horizon.