How to Get the Wicked Implement Exotic Scout Rifle in Destiny 2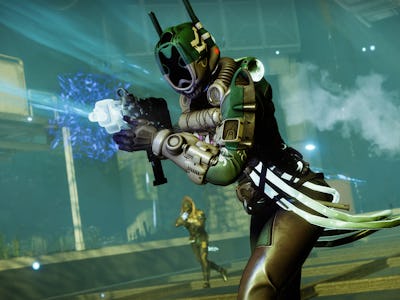 Bungie
Sometimes, the best part of a content update is the guns. Destiny 2 just started its Season of the Deep, a sea-themed season for its Lightfall expansion. Now, as we enter this season's second week, Destiny 2 is introducing a new seasonal activity called Deep Dives that comes with unique rewards. One of these rewards is Wicked Implement, a new exotic scout rifle. Since it landed in the game with the weekly reset on May 30, this bit of sunken treasure is one of the most coveted in the game right now.
Wicked Implement's energy type is Stasis, the icy riff on Darkness introduced in Beyond Light. Here's everything you might want to know about it — and how to claim it from the depths below.
Destiny 2 Wicked Implement Perks and Details
The Wicked Implement Exotic Scout Rifle is a new Stasis scout rifle that was launched during Season of the Deep. Like many other Stasis weapons, its abilities involve slowing targets.
Bungie doesn't have the perks publicly listed for Wicked Implement just yet. However, multiple content creators were able to confirm at least some of the perks on their end or supported the most relevant leaks about how the new scout rifle would fit into the current meta.
According to Redrix, one of these perks is the ability to slow and freeze enemies when you land a headshot with the rifle. According to Respawn First, the specific perks include the following:
Exotic Intrinsic Perk – Creeping Attrition: Rapidly landing precision hits causes targets to become slowed.
Exotic Traits: Precision final blows while Creeping Attrition is active create a Stasis shard that returns to you. Collecting Stasis shards refills the magazine.
Exotic Catalyst: Collecting Stasis shards gradually overflows the magazine.
How to Get Wicked Implement in Destiny 2
There's a Triumph within the Destiny 2 database called Wicked Depths that spills the beans here: "Complete the Whetstone encounter in Deep Dives and earn the Wicked Implement Scout Rifle." Granted, this is a Week 10 challenge, so it is possible that players won't be able to actually earn Wicked Implement until July 25, which is when Week 10 goes live at the weekly reset.
It's unclear exactly what the Whetstone encounter entails, but it likely involves diving deeper into the ocean and destroying Taken Blights while being imbued with the power of Ahsa, Sloan's alien whale friend.
Deep Dives only just went live in Week 2, and we already know about Midnight and Abyss "depth" levels. So it seems likely that Guardians will dive deeper and deeper each week until they finally reach the Whetstone encounter.
How to Complete Deep Dives in Destiny 2
The Deep Dives Seasonal Activity is just what it sounds like. In Season of the Deep, players participate in seasonal challenges called Deep Dives for rewards. Spending a Deep Dive Key at the end of a run grants additional rewards. It's a three-person activity with matchmaking, so you can either fire it up with a full Fireteam already or go in solo.
Each run gives you a limited amount of time to descend through sunken wrecks and other areas and facilities of the deep ocean. The goal is to extract magical materials that allow Sloan to strengthen her telepathic bond with Ahsa, the mysterious whale creature that resides in the methane ocean of Titan. Typically this process involves fighting a lot of Taken and destroying Taken Blights before landing on the ocean floor and fighting a boss of some kind. And it's time-gated, so different encounters will probably be unlocked as time passes this season.
We'll update this post with any further significant details associated with the hunt for Wicked Implement.
Note that you won't be able to participate in Season of the Deep unless you buy a Lightfall Dungeon Key for 2,000 Silver or the Destiny 2: Lightfall annual expansion pack for a full year of content. In that case, Wicked Implement isn't really free, but still.
Destiny 2: Lightfall Season of the Deep runs from May 23 to Aug. 22.